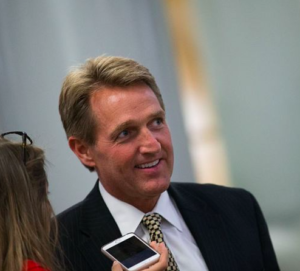 Arizona Senator Jef Flake does not believe in your privacy on the Internet. In fact, he believes that everything you do on the Internet, from your personal information, browsing history, the apps you use, etc. is fair game for your Internet service provider (ISP) to compile a personal profile on you and to use that information for their profit, as well as to sell to third parties.
Senn. Flake introduced S.J.Res. 34, a joint resolution of congressional disapproval of the FCC rule relating to "Protecting the Privacy of Customers of Broadband and Other Telecommunications Services."
Last week the Senate voted on a party-line vote of 50-48 to undo landmark rules covering your Internet privacy:
U.S. senators voted 50 to 48 to approve a joint resolution from Sen. Jeff Flake (R-Ariz.) that would prevent the Federal Communications Commission's privacy rules from going into effect. The resolution also would bar the FCC from ever enacting similar consumer protections.
Flake's measure aims to nullify the FCC's privacy rules altogether.
Today, House Tea-Publicans voted overwhelmingly, by a margin of 215-205, to to wipe out the FCC's landmark Internet privacy protections:
The resolution marks a sharp, partisan pivot toward letting Internet providers collect and sell their customers' Web browsing history, location information, health data and other personal details.
The measure, which was approved by a 50-48 margin in the Senate last week, now heads to the White House, where President Trump is expected to sign it.