Now you can understand why Rep. Martha McSally schedules  private "town halls" before friendly constituencies (like her former employer Raytheon) and tele-town halls rather than public town halls where she gas to face constituents who show up and ask her "impertinent" questions that she does not want to answer.
Let's take a look at how McSally's town hall in the usually friendly confines of Sahuarita and moderated by editor Dan Shearer from the Green Valley News went yesterday.
The Arizona Republic reports, At tense town hall, Rep. Martha McSally faces calls of 'Do your job!':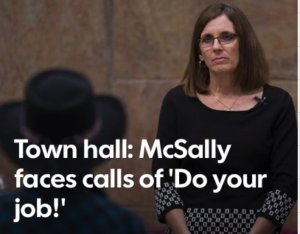 In a sometimes-raucous replay of town halls across the country, U.S. Rep. Martha McSally faced shouts, pleas and cat calls from a noisy share of her constituents Thursday.
Many among the 250 people inside the afternoon event at the Good Shepherd United Church of Christ vented their simmering anger at President Donald Trump and called for her to rein in his agenda on issues such as health care, gun rights and immigration reform.
Dozens or more people chanted "Do your job!" and pressed signs hostile to the administration against the doors outside the church.
For about 90 occasionally tense minutes, there was little sign of the close partisan division within McSally's district. Instead, it was dominated by Democrats and liberals who called on her to serve as a check on the president.
I'm sorry, but how can this reporter know the voter registration of those in attendance? This is an editorial assumption by a reporter without supporting facts. There were just as likely unhappy Republicans in attendance as well.