The House on Tuesday approved a bill banning most abortions after 20 weeks of pregnancy, advancing a key GOP priority for the third time in the past four years — this time, with a supportive Republican president in the White House. The purpose of the bill is to create a direct legal challenge to Roe v. Wade, which provides for access to abortion in the first 24 weeks.  With Trump's backing, House approves ban on abortion after 20 weeks of pregnancy: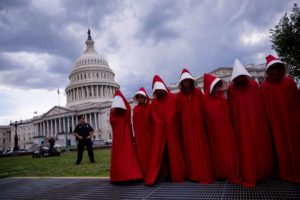 The bill, known as the Pain-Capable Unborn Child Protection Act, is not expected to emerge from the Senate, where most Democrats and a handful of moderate Republicans can block its consideration. But antiabortion activists are calling President Trump's endorsement of the bill a significant advance for their movement.
The White House said in a statement released Monday that the administration "strongly supports" the legislation "and applauds the House of Representatives for continuing its efforts to secure critical pro-life protections."
The bill provides for abortions after 20 weeks gestation only when they are necessary to save the life of the mother or in cases of rape or incest. Under the bill, abortions performed during that period could be carried out "only in the manner which, in reasonable medical judgment, provides the best opportunity for the unborn child to survive" — note, not the life of the mother — and would require a second physician trained in neonatal resuscitation to be present.
How Arizona's congressional delegation voted:
Stricter Abortion Ban: The House on Oct. 3 voted, 237-189, to outlaw abortions after 20 weeks of fertilization on the belief that the fetus can feel pain by then. This repudiates Roe v. Wade's ruling that abortion is legal up to viability that occurs at about 24 weeks or later. A yes vote was to pass HR 36
Voting yes: Martha McSally, R-2, Paul Gosar, R-4, Andy Biggs, R-5, David Schweikert, R-6, Trent Franks, R-8
Voting no: Tom O'Halleran, D-1, Raul Grijalva, D-3, Ruben Gallego, D-7, Kyrsten Sinema, D-9
Women's Health Exemption: The House on Oct. 3 defeated, 181-246, a bid by Democrats to add an overall woman's health exemption to HR 36 to go with exemptions already in the bill in cases of incest or rape or to save the mother's life. A yes vote was to permit abortions after 20 weeks if necessary to protect the mother's health.
Voting Yes: O'Halleran, Grijalva, Gallego, Sinema
Voting No: McSally, Gosar, Biggs, Schweikert, Franks