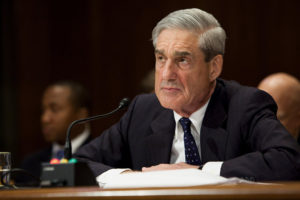 Donald Trump is engaged in a slow-motion "Saturday Night Massacre" purge to get to Special Counsel Robert Mueller. He does not necessarily have to fire Mueller, but he can put him on an island by replacing everyone in the chain of command around him with yes-men who will deny Mueller resources, or deny his requests for subpoenas of documents or witnesses, etc., to effectively impede his investigation.
As I pointed out in a link to Foreign Policy yesterday, it reported on an organized campaign to discredit top DOJ and FBI leadership, expressly so that they would lose power in acting as witnesses to support Comey.
President Donald Trump pressed senior aides last June to devise and carry out a campaign to discredit senior FBI officials after learning that those specific employees were likely to be witnesses against him as part of special counsel Robert Mueller's investigation, according to two people directly familiar with the matter.
* * *
The FBI officials Trump has targeted are Andrew McCabe, the current deputy FBI director and who was briefly acting FBI director after Comey's firing; Jim Rybicki, Comey's chief of staff and senior counselor; and James Baker, formerly the FBI's general counsel. Those same three officials were first identified as possible corroborating witnesses for Comey in a June 7 article in Vox. Comey confirmed in congressional testimony the following day that he confided in the three men.
FBI Director Wray replaced Jim Rybicki last week. Baker was reassigned in December. And now McCabe is gone.
Trump has previously attempted to force Attorney General Jeff Sessions to resign, and to force Deputy Attorney General Rod Rosenstein to resign, who is now the target of the #ReleaseTheMemo smear campaign from Rep. Devin Nunes, FAUX News (aka Trump TV) and Russian intelligence bots. Russia-linked Twitter accounts are working overtime to help Devin Nunes and WikiLeaks.