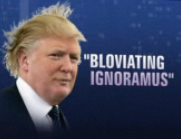 You're shocked, I'm sure. America's liar-in-chief Donald Trump: "I did not make recordings of Comey," after teasing the possibility he did for weeks. What a drama queen. So Trump's good with a charge of witness intimidation then. Good to know.
There's also more evidence for the obstruction of justice charge. Intel chiefs tell investigators Trump suggested they refute collusion with Russians:
Two of the nation's top intelligence officials told Special Counsel Robert Mueller's team and Senate investigators, in separate meetings last week, that President Donald Trump suggested they say publicly there was no collusion between his campaign and the Russians, according to multiple sources.
Director of National Intelligence Dan Coats and National Security Agency Director Adm. Mike Rogers described their interactions with the President about the Russia investigation as odd and uncomfortable, but said they did not believe the President gave them orders to interfere, according to multiple sources familiar with their accounts.
Their "beliefs" or "feelings" are irrelevant. They confirmed the attempt to obstruct was made.