Last week I posted about how Tea-Publican newbie legislator Rep. Todd Clodfelter (R-Tucson) was the decisive vote in committee to advance a package of bills from our corporate overlords in the Chamber of Commerce organizations to restrict your constitutional rights to the initiative and referendum process. House Tea-Publicans vote to restrict your constitutional right to make laws.
This week it is Rep. Vince Leach (R-Tucson) who is carrying water for our corporate overlords in the Chamber of Commerce organizations and doing the bidding of his "dark money" masters. Arizona lawmakers advance bill to limit voter initiatives: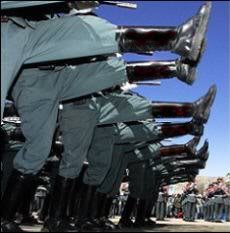 Spurred by business interests in the wake of a voter-approved minimum-wage hike, Republican lawmakers approved legislation Thursday that could curtail the ability of citizens to create their own laws.
The most significant provision of HB 2404 would effectively eliminate the ability of groups to use paid circulators by prohibiting payment by the number of signatures gathered.
Paid circulators would still be allowed — but only if compensated on an hourly or other basis. But that removes any incentive for circulators to gather as many signatures as possible.
"It reforms the incentive for fraud and forgery," said Rep. Vince Leach, R-Tucson, who is carrying the legislation that was largely crafted by the Arizona Chamber of Commerce and Industry.
The measure approved by the House Government Committee on a party-line vote and sent to the full House also imposes a series of new procedural hurdles and gives those who oppose initiatives new rights to try to have them knocked off the ballot before voters get a chance to weigh in.
The legislation also requires strict compliance with all initiative requirements, something Sierra Club lobbyist Sandy Bahr said could result in disqualifying petitions simply because their margins are not the right size.
And it would require any initiative committee that uses paid circulators to purchase a bond of up to $50,000.