Authoritarian Tea-Publicans have gone "nuclear" and blown up the Senate filibuster rules. The New York Times reports, Senate Republicans Deploy 'Nuclear Option' to Clear Path for Gorsuch:
Senate Republicans changed longstanding rules on Thursday to clear the way for the confirmation of Judge Neil M. Gorsuch to serve on the Supreme Court, bypassing a precedent-breaking Democratic filibuster by allowing the nomination to go forward on a simple majority vote.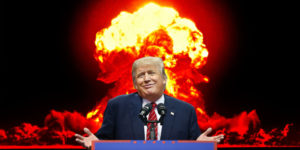 Lawmakers convened late Thursday morning to decide whether to end debate and advance to a final vote on Judge Gorsuch. Republicans needed 60 votes — at least eight Democrats and independents joining the 52-seat majority — to end debate on the nomination and proceed to a final vote.
Only a handful of Democrats defected, and the vote failed, 55-45, leaving Republicans to choose between allowing the president's nominee to fail or bulldozing long-held Senate practice.
[The chamber then voted] on a party-line vote, with all 52 Republicans voting to overrule Senate precedent and all 48 Democrats and liberal-leaning independents voting to keep it.
The Senate then voted 55-45 to cut off debate — four votes more than needed under the new rules — and move to a final vote on Judge Gorsuch's confirmation Friday evening, with a simple majority needed for approval.