The Houston Chronicle reports that Federal judge again tosses out Texas voter ID law: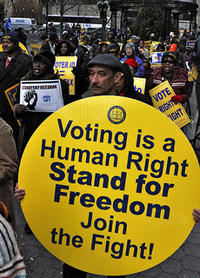 A federal judge who has compared Texas' voter ID requirements to a "poll tax" on minorities once again blocked the law Wednesday, rejecting a weakened version backed by the Trump administration and dealing Texas Republicans another court defeat over voting rights.
You can read the 27 page opinion and order  HERE (.pdf).
U.S. District Judge Nelva Gonzales Ramos rejected changes signed by Republican Gov. Greg Abbott this summer as not only lacking but also potentially chilling to voters because of new criminal penalties. The new version didn't expand the list of acceptable photo identifications — meaning gun licenses remained sufficient proof to vote, but not college student IDs.
Instead, the changes would allow people who lack a required ID to cast a ballot if they signed an affidavit and brought paperwork that showed their name and address, such as a bank statement or utility bill. Those revisions were supported by the U.S. Justice Department, which under President Barack Obama had joined Democrats and minority rights groups in suing over the law.
But that position has changed with President Donald Trump in charge, who has established a "fraudulent voter fraud commission" to investigate allegations of voter fraud in the 2016 elections. In February, the Trump Justice Department abandoned the argument Texas passed voter ID rules with discrimination in mind and said changes signed by Abbott should satisfy the courts.
Texas first passed the voter ID law in 2011, the same year the GOP-controlled Legislature adopted voting maps that were also struck down as discriminatory [in mid-August]. See Rick Hasen, Breaking: 3-Judge Court Issues Latest Order in Texas Redistricting Case (Congressional Seats), Finding Continued Intentional Racial Discrimination. You can read the court's 107-page order here.
UPDATE: The Texas Tribune reports:
Texas Attorney General Ken Paxton revealed Friday that Gov. Abbott won't ask lawmakers to redraw the state's congressional map — found by a federal court this week to discriminate against Latino and black voters — in a fresh round of legislative overtime.
Instead, Paxton is appealing the ruling to the U.S. Supreme Court and trying to keep the boundaries intact for the 2018 elections, according to his filing to a panel of three judges in San Antonio.