Those GOP plutocrat campaign donors really need their tax cuts (not). Christopher Ingraham reports,  The richest 1 percent now owns more of the country's wealth than at any time in the past 50 years: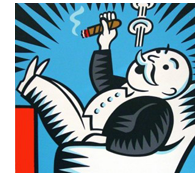 The wealthiest 1 percent of American households own 40 percent of the country's wealth, according to a new paper by economist Edward N. Wolff. That share is higher than it has been at any point since at least 1962, according to Wolff's data, which comes from the federal Survey of Consumer Finances.
From 2013, the share of wealth owned by the 1 percent shot up by nearly three percentage points. Wealth owned by the bottom 90 percent, meanwhile, fell over the same period. Today, the top 1 percent of households own more wealth than the bottom 90 percent combined. That gap, between the ultrawealthy and everyone else, has only become wider in the past several decades.