In other news … Republicans completed their epic fail to pretend to pass an immigration bill on Wednesday when the GOP compromise bill on immigration failed in a worse-than-expected 121-300 vote, effectively ending a months-long GOP drama that had put the caucus's internal politics on display.
Arizona delegation: Yeah: McSally; Nay: Biggs, Gallego, Gosar, Grijalva, Lesko, O'Halleran, Schweikert, Sinema.
The Hill reports, House rejects second GOP immigration bill: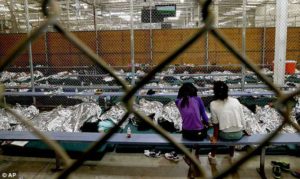 The measure won far fewer GOP votes than a more hard-line measure rejected last week in a 193-231 vote.
Only 121 Republicans backed it, compared to 193 for the earlier measure. Two Republicans did not cast votes on Wednesday, while 112 Republicans voted against it.
Votes on the bill were twice postponed to give Republicans more time to win support for the measure, which was opposed by Democrats.
But conservatives never really warmed to it, and President Trump put down the effort on Twitter, at one point saying that Republicans should stop wasting their time since the bill was seen as dead on arrival in the Senate.