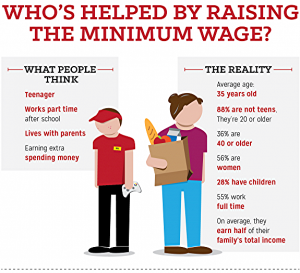 In 2006, Arizona voters approved Proposition 202, the Arizona Minimum Wage Act, by a citizens initiative which set a higher minimum wage and adopted an automatic annual  cost of living adjustment.
Proposition 202 also gave local governments the right to enact their own higher minimum wage and other benefits of employment.
A.R.S.§ 23-362, Paragraph I provides:
I. THE LEGISLATURE MAY BY STATUTE RAISE THE MINIMUM WAGE ESTABLISHED UNDER THIS ARTICLE, EXTEND COVERAGE, OR INCREASE PENALTIES. A COUNTY, CITY, OR TOWN MAY BY ORDINANCE REGULATE MINIMUM WAGES AND BENEFITS WITHIN ITS GEOGRAPHIC BOUNDARIES BUT MAY NOT PROVIDE FOR A MINIMUM WAGE LOWER THAN THAT PRESCRIBED IN THIS ARTICLE. STATE AGENCIES, COUNTIES, CITIES, TOWNS AND OTHER POLITICAL SUBDIVISIONS OF THE STATE MAY CONSIDER VIOLATIONS OF THIS ARTICLE IN DETERMINING WHETHER EMPLOYERS MAY RECEIVE OR RENEW PUBLIC CONTRACTS, FINANCIAL ASSISTANCE OR LICENSES. THIS ARTICLE SHALL BE LIBERALLY CONSTRUED IN FAVOR OF ITS PURPOSES AND SHALL NOT LIMIT THE AUTHORITY OF THE LEGISLATURE OR ANY OTHER BODY TO ADOPT ANY LAW OR POLICY THAT REQUIRES PAYMENT OF HIGHER OR SUPPLEMENTAL WAGES OR BENEFITS, OR THAT EXTENDS SUCH PROTECTIONS TO EMPLOYERS OR EMPLOYEES NOT COVERED BY THIS ARTICLE. (emphasis added)
Last July, the Court ruled that Arizona cities can raise minimum wage:
Arizona cities have the right to raise their own minimum wages, according to a court judgment state officials agreed to Monday.
A group of Flagstaff residents in April sued the state over a law that prohibits cities from raising the minimum wage. Group members argued that the cost of living in Flagstaff is nearly impossible to afford on the state's current minimum wage of $8.05 an hour.
On Monday, Attorney General Mark Brnovich agreed to a Maricopa County Superior Court judgment stating that the 2013 law limiting minimum-wage increases conflicts with Proposition 202, a measure Arizona voters approved in 2006 allowing cities to regulate wages and benefits via ordinance.
Brnovich agreed to the judgment even before filing a legal response to the claim. He agreed to pay $7,500 in legal fees.
"This proposition was voter protected, and state law was in conflict as it relates to the wages issue," said Brnovich spokesman Ryan Anderson. "Whether you agree or disagree with our philosophies or where we stand, we're going to be consistent in enforcing the law. We don't make policy. Our job here is to enforce the law."
Doug Ducey, the ice cream man hired by Koch Industries to run their Southwest subsidiary formerly known as the state of Arizona, disagrees. In his State of the State address in January, Il Duce decreed that no city had better enact its own ordinances for higher wages or employee benefits, e.g., paid time off, or the state legislature would punish them by cutting off state revenue sharing. Arizona cities react to Ducey's ultimatum on minimum wage job laws.
Several versions of bills to carry out Il Duce's threat are currently making their way through the legislature. Our authoritarian lawless Tea-Publican legislature is attempting to preempt local ordinances for minimum wage and employee benefits, e.g., paid time off, while quashing the will of the voters as enacted in the Arizona Minimum Wage Act in 2006.
Now comes a "back-door" attempt to redefine pay and benefits from the evil bastards at the Arizona Restaurant Association to effectively gut the Arizona Minimum Wage Act by a simple legislative act (which likely violates the Voter Protection Act, something our lawless Tea-Publican legislature is also seeking to repeal this session). AZ Legislature would limit city efforts on sick pay:
State lawmakers are moving to undermine the ability of cities to require employers to provide things like sick leave to local workers.
And they're doing it in a back-door way.
Legislation set for a House vote Monday would leave undisturbed what businesses have finally conceded they cannot do: preclude cities and counties from setting minimum wages higher than what the state requires.
That's because a 2006 voter-approved minimum-wage law specifically permits such local options.
Instead, HB 2579 seeks to narrow the definition of exactly what "wages" are, to include only the cash compensation paid.
The legislation specifically says that certain things are not wages. That includes everything from fringe benefits like health insurance, sick pay, maternity leave and vacation pay.
Chianne Hewer, lobbyist for the Arizona Restaurant Association, acknowledged the move is designed to short-circuit any move by any city to tell her members — or any other employer — that they have to provide any of that, as none of it is required under state law.
The concerns are more than academic.
Tucson City Councilwoman Regina Romero has been pushing for an ordinance to make sick leave part of a "working family agenda."
She contends that would help the working poor, especially mothers. Romero said about half the Tucson workforce does not have access to earned sick leave.
Romero's proposals have run into stiff opposition from members of the business community. But if HB 2579 becomes law, they would no longer have to worry about what the council does.
The fight has its roots in the 2006 initiative pushed by the AFL-CIO and the United Food and Commercial Workers. It required employers to pay $6.75 an hour at a time when the federal minimum wage was $5.15. Voters approved it by a 2-1 margin.
The same law requires annual adjustments tied to inflation. The current state minimum is $8.05 an hour, compared to $7.25 at the federal level.
Fearful some communities could push the figure even higher, businesses got the Republican-controlled Legislature to vote in 2013 to block such "living-wage" laws.
But Attorney General Mark Brnovich ruled that conflicts with language in the 2006 initiative — which lawmakers cannot alter — specifically allowing local options on wages.
This new measure seeks to get around that by narrowing the definition of what is a "wage."
* * *
The only recorded vote to this point came in the House Commerce Committee, which approved the change on a party-line vote. It gained preliminary approval Thursday on a voice vote, setting the stage for a roll-call vote on Monday.
Rebekah Friend, executive director of the state AFL-CIO, said if the measure becomes law, it likely will face a legal challenge.
"I don't think they can do it," she said.
Friend said she reads the voter-protected language of the 2006 ballot measure to preserve a local option for everything that was considered a "wage" at that time, the same language as currently exists. And it defines wages as including "sick pay, vacation pay, severance pay, commissions, bonuses and other amounts promised when the employer has a policy or a practice of making such payments."
Republican lawmakers are not the only ones trying to throw roadblocks in the path of local options on things like wages.
In his State of the State speech in January, Gov. Doug Ducey fired a salvo at cities that are considering adopting their own living-wage requirements. He called such moves "trendy, feel-good policies that are stifling opportunity across the nation."
And the governor said he'd do more than talk about it.
"I will use every constitutional power of the executive branch and leverage every legislative relationship to protect small businesses and the working men and women they employ," Ducey threatened. He said that would include cutting state-share revenues for communities that adopt a minimum wage higher than Arizona law mandates.
Gubernatorial press aide Daniel Scarpinato said his boss' views on living wages extend to fringe benefits. Romero said it's wrong of Ducey to try to block the issue.
"Let's have a conversation on how we improve the lives of the working poor in our state," she said, rather than simply threatening cities with loss of state aid.
"I'm open to a conversation," Romero continued, "but I'm not open to just being shut out."
Call your state legislators today to oppose House Bill 2579, an anti-worker anti-voter bill to gut the Arizona Minimum Wage Act enacted by the voters of this state by Proposition 202 in 2006. Then vote these authoritarian lawless Tea-Publicans out of office in November.
THIRD READING CALENDAR – Monday, February 29, 2016
HB2579           nonwage compensation; minimum wage
SPONSOR:  MESNARD       COM                    2/10/2016     DP                (5-3-0-0-0)
RULES                2/22/2016     AMEND C&P  (6-1-0-2-0)
COW                   2/25/2016     DPA
We may have to refight the fight that we already won in 2006. Arizona voters may get say on new minimum wage in November:
The nationwide "Fight for 15" movement, which seeks to dramatically increase the minimum wage, may be coming to Arizona this November.
Living United for Change in Arizona, a progressive advocacy group that focuses heavily on immigration issues, is leading a coalition that is considering an initiative drive that would seek to put a new minimum wage measure on the November ballot. LUCHA has been a strident advocate of the "Fight for 15" movement that seeks to raise the minimum wage for fast food workers.
Tomas Robles, LUCHA's executive director, said the group is committed to a minimum wage ballot measure, but hasn't decided yet if 2016 is the right year to do it. The coalition may push it back to 2018, he said. Conventional wisdom usually holds that liberal ballot measures fare better in presidential election years, though Robles said that may not hold true in Arizona's case.
Either way, he said, the group will make a decision by the first week of March.
"Timing is always a big question, and also just seeing and understanding what the landscape in Arizona would look like," Robles said.
Another open question is whether the group will indeed fight for $15. Robles said some details of the proposal have yet to be finalized, including whether the proposed minimum wage will be set at $15 or something lower. Wherever that new minimum wage is set, Robles said it will have an escalator that will gradually phase it in over the course of four or five years.
"There's no set number just yet in terms of what the minimum wage will look like," he said. "We've done polling on various amounts and all of them poll really well. But it's just figuring exactly where we want to go from there."
* * *
Robles said the minimum wage coalition includes the American Federation of State, County and Local Employees, along with other labor and community organizations that haven't publicly declared their support yet.
There are also unnamed national groups that have committed to help fund the potential initiative, said political consultant Bill Scheel, whose firm, Javelina, is working with LUCHA on the project.
"There's a huge amount of national interest in this issue. And so you've got a lot of groups that supported these types of efforts in other states that have pledged significant support to a possible initiative. And we want to make sure that support is here in the state, and so far it looks like it is," Scheel said.
If the coalition moves forward on the minimum wage project, it's going to need all the funding it can get. The proposed initiative would need 150,642 in order to get on the ballot, which means it will likely need more than 200,000 signatures to ensure that it has enough of a cushion to overcome ineligible signatures.
That will take money, especially this late in the year. Signatures for ballot initiatives are due by July 7.
"It's a daunting task but I believe we can still get it done," Robles said.
Arizona is one of several states where advocates are eying ballot measures to increase the minimum wage. In January, supporters of an initiative to increase California's minimum wage to $15 submitted more than 600,000 signatures to put the question on the ballot. A similar effort is underway in Oregon.
And there is likely to be well-funded opposition to any ballot proposition that seeks to increase the minimum wage. The Arizona Chamber of Commerce and other business community organizations are fiercely opposed to an increase, as is Gov. Doug Ducey, who has gone as far as to threaten to withhold state revenues from cities that pass municipal minimum wage laws.
The Chamber of Commerce opposed the 2006 initiative that increased the minimum, and is likely to do the same if a new proposal reaches the ballot, chamber spokesman Garrick Taylor said.
* * *
Scheel was optimistic that the initiative can prevail over whatever opposition the business community, the governor or others throw its way.
"That opposition was there 10 years ago when the first minimum wage … increase was proposed, and that passed by well over a two to one margin. So I think history is on our side," he said.