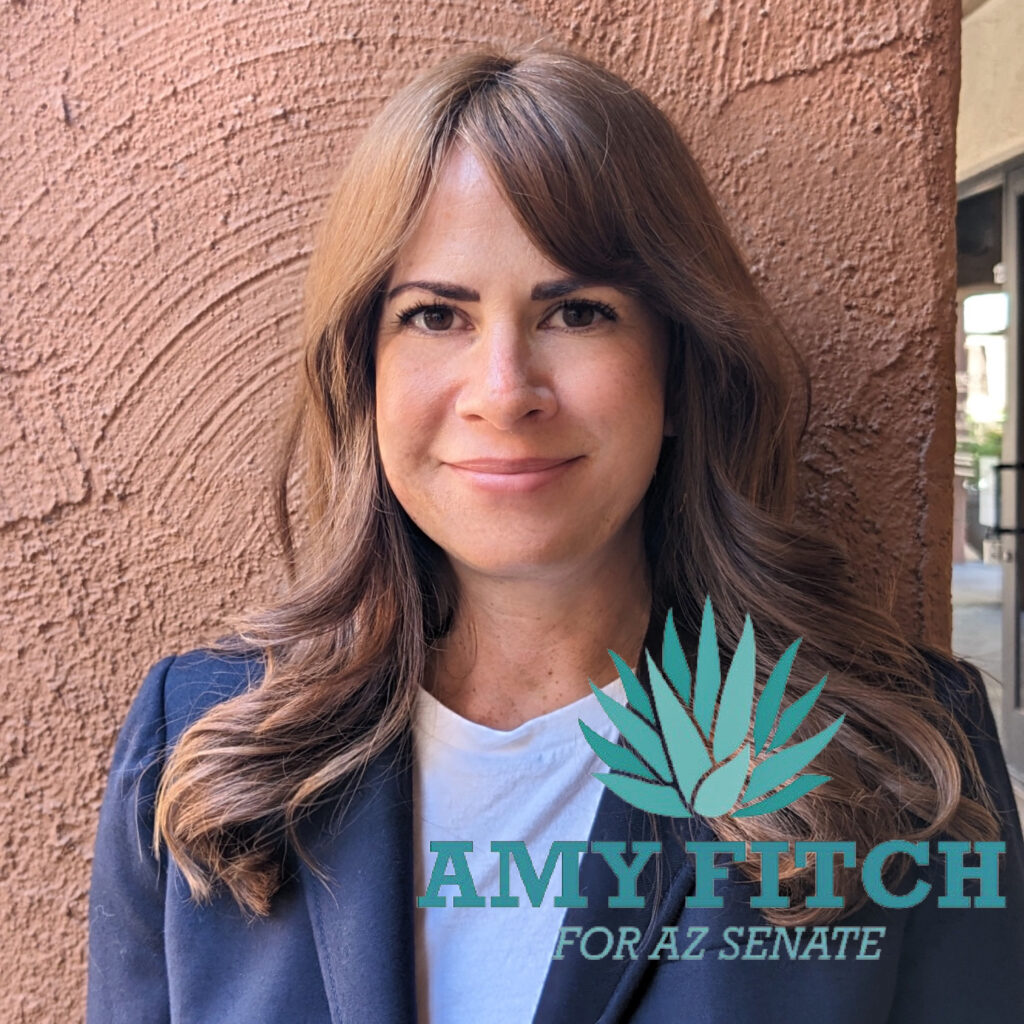 In the November 2022 elections, voters in Arizona Legislative District (LD) 17, an area encompassing Republican-friendly Oro Valley and the outer edges of the Tucson area elected Justine Wadsack by a slim margin over Democratic opponent Mike Nickerson. Wadsack, a fringe extremist candidate who lost to Kirsten Engel by over 17 points in a State Senate race in 2020, shocked the Arizona political world by politically dispatching arch-conservative Vince Leach in the 2022 LD 17 primary before barely prevailing in the November general elections. 
Since taking office, Wadsack has not distinguished herself in a positive way and is currently facing a recall effort.
In the meantime, Democrat activist Amy Fitch has declared her candidacy for the LD 17 State Senate seat.
Motivated in part by the words of Justice Samuel Alito in the Dobbs Decision revoking Roe v Wade that pointed out that women had the right to exercise political power, win office, and secure legislation protecting reproductive freedom, Fitch pledges, if victorious to be a good steward for the public good that would work on solutions that help everyone in LD 17 and Arizona.
Running on a platform to build infrastructure, fully fund public education, and protect reproductive freedom, Ms. Fitch graciously took the time to respond to questions about her candidacy for the State Senate Seat in LD 17.
The questions and her responses are below.
Please tell the readers two reasons you have decided to run for the Arizona State Senate in 2024.
"First, I've worked as an advocate and a policy advisor for many years, and that type of work, if you're doing it well, requires a lot of listening to members of our community. The message I continue to receive from voters in LD17 is that they want representation who hears them and recognizes their values and concerns."
"Second, I think both COVID and the Dobbs decision really illuminated the importance of state legislatures in a profound way. I think that the people who haven't been as engaged in state legislative races when compared to a Presidential race now understand more completely that our day-to-day lives are really made better or worse by state governments. I want to be part of making our lives better. I would be remiss if I didn't mention that, speaking of Dobbs, a lot of my work has been in reproductive freedom policy and advocacy. Justice Alito gave us some abhorrent terminology when he wrote that Dobbs decision but one thing that he pointed out was that women are not without political power. He said women can run for office and create laws. I don't agree with Justice Alito on very much but if he's challenging more women to be policy decision-makers, then I'm all in on that."
What are at least three policy issues you plan to run on in 2024?
"LD 17 voters are really concerned about kitchen table issues. Crumpling infrastructure, public education funding crisis, and restoring/protecting our reproductive freedoms. I am really looking forward to working with those voters and colleagues in the legislature to find lasting solutions."
What is your view on Immigration?
"Immigration is absolutely an important issue. Although I did not mention immigration in the first set of issues. I realize that we have an immigration crisis in Arizona. I am a causation person. When I think about problems like immigration, I think about why we are experiencing the influx and how we can really look at the system in a holistic manner, go to the source, and work from there in order to solve that."
Please explain why voters in LD 17 should choose you over any other candidate in 2024.
"I listen and more than that, I really hear the concerns of our community. I'm running to represent this district fully understanding that this seat belongs to all of us. Voters can rest assured that I will consider all of our interests and along with that, LD 17 is my home. It's my favorite place in the whole world. I live, work, and raise my family in this district. I am completely committed to its stewardship. Stewardship is a big deal to me. I will protect and improve our district and state without wasting time and money pushing an extreme agenda."
How will your campaign persuade Democrats, Independents, and like-minded Republicans to support you in 2024? Please explain.
"Along with those kitchen table issues that I think really cross over and touch all our political persuasions, I'm running a campaign of collaboration, not alienation. I'm a leader that believes the majority of Arizonans want the same thing. They want health, safety, and prosperity. Our party alignments lead us to have different ideas on how to get there sometimes but I know I am a candidate who is ready to get to work on solutions for all of us."
Is there anything not covered in the first four questions that you would like the readers to know about you or your candidacy for the LD 17 Senate Seat in 2024? Please explain.
"The most important thing I want people to know about me is I am a very proud Arizonan. I believe in working together to ensure a bright future for all of us. We have a really unique opportunity to focus on our shared values this next election cycle. I know voters believe as I do that the time for that is now."
Please click on the below social media sites to find out more about Amy Fitch and her candidacy for the State Senate Seat in LD 17.
Twitter: @amyforaz
Instagram: @amyforaz
Threads: @amyforaz
Facebook: Amy Fitch for Arizona State Senate