Donald Trump "went there" this morning on the Special Counsel's Russia probe.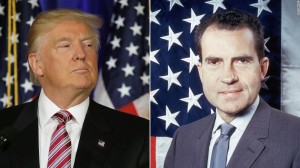 Trump is, once again, setting up Confederate Attorney General Jefferson Beauregard Sessions III to be the fall guy by signaling he is now ready to pull a Nixonian "Saturday night massacre" if the Attorney General does not do as he is directed by the president, a clear violation of the independence of the Department of Justice from undue influence over criminal investigations by the chief executive. With Robert Mueller closing in, Trump is in a panic and is abusing the powers of the presidency to obstruct justice in order to protect himself.
Chris Cillizza at CNN reports, Donald Trump just tweeted something new about the Russia investigation — and it's huge:
President Donald Trump has made his displeasure with Attorney General Jeff Sessions, special counsel Robert Mueller and the ongoing investigation into Russia's interference in the 2016 election he is leading crystal clear over the past year. But he took that critique to new heights on Wednesday morning, suggesting that Sessions needed to step in and end the investigation.
That seems like a pretty clear directive, no?
While there may be some debate over whether the President tweeting that Sessions should stop the investigation is different than him directly telling the attorney general to do so, we shouldn't get too caught up in the semantics here.
What happened on Wednesday morning is this: The President of the United States asked directed the top law enforcement official in the country to end an investigation into a) Russia's active-measures campaign to interfere in the 2016 presidential election to benefit Trump and hurt Hillary Clinton and b) the possibility that a member (or members) of the Trump campaign colluded with the Russians to aid that end goal.
This is a bridge further than Trump has been willing to go in the past. Sure, he has run down Sessions relentlessly ever since the former Alabama senator decided to recuse himself from the Russia investigation. (Side note: Sessions' recusal means that, technically, he can't end the probe as Trump wants. That duty would fall to Deputy Attorney General Rod Rosenstein, who Trump has also maligned via social media.)
And, yes, the President has suggested — in a broad sense — that the investigation should end soon … But what he has never done before is specifically direct Sessions to end the investigation. Which is a big deal. And provokes a simple question: Why now?
Trump himself provided a semblance of an answer to that question moments after he tweeted out his call for Sessions to bring the special counsel probe to an end. Ten minutes after the Sessions tweet, Trump sent this one:
Manafort, who served as Trump campaign chairman and de facto campaign manager from the spring until the late summer of 2016, is currently in the midst of a trial in which he faces numerous charges of financial improprieties related to his work for the pro-Russia Ukrainian government. The charges against Manafort stem directly from the Mueller probe and are regarded as the leading edge of the former FBI director's investigation — which is expected to reach its conclusion sometime this fall.
And then there's this: Last week we learned — thanks to CNN reporting — that former Trump personal fixer Michael Cohen says he is willing to tell Mueller that Trump had advance knowledge of a June 2016 Trump Tower meeting between top Trump campaign officials and a group of Russians. Trump has repeatedly denied he knew about the meeting, which came about after the Russians — through an intermediary named Rob Goldstone — promised dirt on Clinton to Donald Trump Jr. (Speaking of Don Jr., he has testified to Congress under oath that he never told his father about the meeting before it happened.)
Those developments come on top of the fact that five people have already pleaded guilty to a variety of crimes in relation to the Mueller probe, and two high-profile former Trump staffers — former national security adviser Michael Flynn and former deputy campaign chairman Rick Gates — are cooperating with Mueller. Cohen, who could well face criminal charges on unrelated matters in connection with an ongoing investigation by the Southern District of New York, is also seen as a potential cooperating witness.
In short: It's getting a little hot in here for Trump.
[A]s Mueller creeps ever closer to Trump's innermost circle — and Cohen as well as longtime Trump organization chief financial officer Allen Weisselberg are as "inner" as you get — the pressure grows. And don't forget that we know Mueller's team is looking not only into Russian efforts in the 2016 election but also possible obstruction of the investigation as it relates to the removal of Flynn and former FBI Director James Comey in 2017.
Trump's lawyers have said he would be potentially willing to talk to Mueller about collusion, but that obstruction would be off the table for fear that Mueller would be leading the President into a perjury trap. [As Above The Law Blog explains, It's Not A 'Perjury Trap' Just Because You Plan To Commit Perjury.] Taking obstruction off the table in light of Trump's tweet Wednesday telling Sessions to end the investigation is — how to say it? — interesting.
It's hard to separate signal from noise when it comes to Trump's reactions to the Mueller probe. But the tweet this morning is an escalation from what we've seen from this President before. And we should all be paying very close attention to what happens next.
We are on DOJ massacre watch.
UPDATE: This may have played a part in Trump's panic tweets. Murray Waas writes at the New York Review of Books, Flynn, Comey, and Mueller: What Trump Knew and When He Knew It:
Previously undisclosed evidence in the possession of Special Counsel Robert Mueller—including highly confidential White House records and testimony by some of President Trump's own top aides—provides some of the strongest evidence to date implicating the president of the United States in an obstruction of justice. Several people who have reviewed a portion of this evidence say that, based on what they know, they believe it is now all but inevitable that the special counsel will complete a confidential report presenting evidence that President Trump violated the law. Deputy Attorney General Rod Rosenstein, who oversees the special counsel's work, would then decide on turning over that report to Congress for the House of Representatives to consider whether to instigate impeachment proceedings.
* * *
I have learned that a confidential White House memorandum, which is in the special counsel's possession, explicitly states that when Trump pressured Comey he had just been told by two of his top aides—his then chief of staff Reince Priebus and his White House counsel Don McGahn—that Flynn was under criminal investigation. This memo, the existence of which I first disclosed in December in Foreign Policy, was, as one source described it to me, "a timeline of events [in the White House] leading up to Flynn's resignation." It was dated February 15, 2017, and was prepared by McGahn two days after Flynn's forced resignation and one day after Trump's meeting with Comey. As I reported, research for the memo was "primarily conducted by John Eisenberg, the deputy counsel to the president and legal adviser to the National Security Council," who, in turn, was "assisted by James Burnham, another White House counsel staff member."
* * *
In a confidential January 29 letter to the special counsel first reported by The New York Times, two of the president's attorneys, John Dowd (who no longer represents Trump) and Jay Sekulow, maintained that the president did not obstruct justice because, even though Flynn had been questioned by the FBI, Trump believed that the FBI investigation was over, and that Flynn had been told that he'd been cleared.
* * *
In arguing in their January 29 letter that Trump did not obstruct justice, the president's attorneys Dowd and Sekulow quoted selectively from this same memo, relying only on a few small portions of it. They also asserted that even if Trump knew there had been an FBI investigation of Flynn, Trump believed that Flynn had been cleared. Full review of the memo flatly contradicts this story.
The memo's own statement that Trump was indeed told that Flynn was under FBI investigation was, in turn, based in part on contemporaneous notes written by Reince Priebus after discussing the matter with the president, as well as McGahn's recollections to his staff about what he personally had told Trump, according to other records I was able to review. Moreover, people familiar with the matter have told me that both Priebus and McGahn have confirmed in separate interviews with the special counsel that they had told Trump that Flynn was under investigation by the FBI before he met with Comey.
* * *
A person with first-hand knowledge told me that during interviews with the special counsel, both McGahn and Priebus confirmed that they had informed Trump during this meeting that Flynn was being investigated by the FBI. Further, according to three current and former administration officials, McGahn also relayed to President Trump that Flynn had told the FBI the same false story he'd earlier told Pence (that Flynn had never spoken to Kislyak about sanctions). Because Trump and McGahn knew of Flynn's misstatements to the FBI, they would have understood the legal jeopardy Flynn was in: it is a felony to lie to the FBI—precisely the federal criminal charge Flynn would later plead guilty to.
Additionally, my sources say that the special counsel also interviewed the two White House attorneys, John Eisenberg and James Burnham, who helped draft the McGahn memo, in which they, too, concluded that Trump was told that Flynn was under FBI investigation. Both men said that they questioned McGahn while researching the timeline; one of them independently recalled McGahn's contemporaneously telling the president that Flynn had been interviewed by the FBI. (In October 2017, Burnham left the White House to go to work as senior counsel in the Justice Department's Civil Division.)
* * *
Trump's knowledge of the criminal investigation of Flynn is central to the special counsel's obstruction case because of what Trump's action later that same day, January 27, might reveal about his intent and motivation. It was then that the president called Director Comey and invited him to dinner that evening at the White House. Comey has testified to the Senate Intelligence Committee that he did not understand until he arrived that he and the president would be dining alone. At this dinner, Trump suggested to Comey that his job might not be secure, leading Comey to believe that Trump was attempting to "create some sort of patronage relationship," something that was very troubling to Comey "given the FBI's traditionally independent status." Comey testified that:
A few moments later the president said, "I need loyalty, I expect loyalty." I didn't move, speak, or change my facial expression in any way during the awkward silence that followed. We simply looked at each other in silence.
* * *
On February 13, faced with the prospect of being fired by Trump, Flynn resigned as national security adviser. The next morning, after an Oval Office meeting with the vice president, the attorney general, the deputy CIA director, and other national security and law enforcement officials, the president asked FBI Director Comey to remain behind. Once they were alone, Trump allegedly pressured Comey to shut down the FBI's investigation of Flynn. Comey has testified that Trump said, "I hope you can see your way clear to letting this go, to letting Flynn go. He is a good guy." The president then repeated: "I hope that you can let this go."
* * *
The February 15 memo, combined with accounts given to the special counsel by Priebus and McGahn, constitutes the most compelling evidence we yet know of that Donald Trump may have obstructed justice … [T]he most compelling evidence that the president may have obstructed justice appears to come from his own most senior and loyal aides. The greatest threat to his presidency is not from his enemies, real or perceived, but from his allies within the White House.