In recent weeks I have seen a number of odd headlines about Creepy Clown Sightings in the United States.
It turns out that it is just Donald Trump campaigning in battleground states. He is coming back to Arizona again next week. GOP presidential nominee Donald Trump to return to Arizona for sixth campaign stop: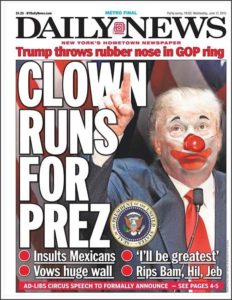 Republican presidential nominee Donald Trump is scheduled to return to Arizona next week, his sixth swing through the traditionally red state.
Arizona has emerged as a battleground state in the presidential race.
Trump is expected to appear at a 2 p.m. rally Tuesday in Prescott Valley at the Prescott Valley Event Center. Doors will open at 11 am. Free tickets are available on Trump's website.
Brian Seitchik, Trump's state campaign director, said Trump will travel to Prescott Valley because "The campaign has already has a series of great rallies here in the Valley and in Tucson, and the campaign wanted to give another part of the state an opportunity to hear from Mr. Trump directly."
Or maybe the Trump campaign has internal polling showing that it is in trouble here in Arizona and needs to shore up its GOP crazy base.
The Clinton campaign currently has a large ground game in Arizona, but the candidate and her top-tier surrogates have not yet appeared at rallies in Arizona. If they start showing up in Arizona, you know that the Clinton campaign's internal polling show Arizona is in play.