When:
May 7, 2018 @ 12:00 pm – 1:30 pm
2018-05-07T12:00:00-07:00
2018-05-07T13:30:00-07:00
Where:
Dragon's View restaurant
400 N Bonita Ave
Tucson, AZ 85745
USA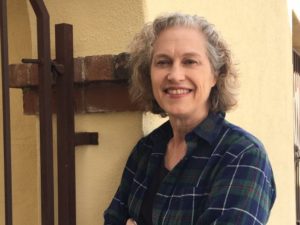 Alison Jones was briefly a candidate for CD 2 House in 2017. Info from her exploration committee statement:
"I am a hydrogeologist and WATER expert and I have spent my career working on environmental issues. I am active in the community, including having served as President of the Arizona Geological Society and on numerous other boards and organizations.My husband, Gerry, and I moved to southern Arizona 12 years ago…"
Her bio (submitted by the speaker):
"Alison Jones grew up in Cajun country of southern Louisiana, which in retrospect, she realizes was a weird place to grow up. Her father, a Korean War hero who became a feminist only after he had 2 daughters, told Alison she could do anything and  instilled in her a love of science and reason. She later obtained Bachelors and Masters degrees in geology.  During the early 1990s, during a rough period of unemployment for geologists, Alison read a book on economics and took the SEC test for stockbrokers. Surprisingly, she passed and spent a few years as a municipal bond broker. And so began her interest in economics. She never lost her love of science however, and when the market for geologists recovered, Alison resumed her work in earth science.
Alison and her husband moved to Arizona from Maine in 2006, and she is employed as a Senior Hydrogeologist at a consulting firm in Tucson where she works on groundwater, environmental, and water supply projects. She has many hobbies, including playing tenor saxophone in a jazz ensemble. She is into backpacking and hiked the John Muir Trail in 2015 and 2016. She is a member of Saguaro Toastmasters, the Arizona Geological Society, and the Arizona Hydrological Society. She is a precinct committeeperson and is serving as an interim Territory Coordinator for LD9.  She is also a member of Progressive Democrats of Southern Arizona.
Alison briefly explored a campaign for the CD2 House of Representatives seat, but decided it was not feasible at this point in her life because she could not figure out a good way to keep her health insurance premiums paid up while  she campaigned full time. So in the meantime, she is contributing where and how she can as she takes care of her elderly parents, works full time, and sleeps occasionally."