When:
June 11, 2018 @ 12:00 pm – 1:30 pm
2018-06-11T12:00:00-07:00
2018-06-11T13:30:00-07:00
Where:
Dragon's View restaurant
400 N Bonita Ave
Tucson, AZ 85745
USA

Betty is the Former Housing Program Manager at Pima County Housing Center.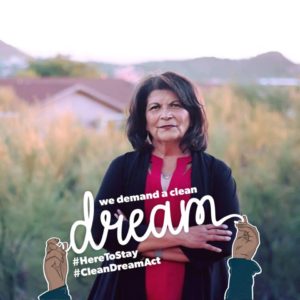 Betty Villegas, political newcomer is running for LD 3 Senate, a seat being vacated by current State Senator Olivia Cajero Bedford (termed out).  Also running for this seat will be current LD 3 House Rep. Sally Gonzales. 
"Betty Villegas is a native of Pima County, a third generation Tucsonense, and she has lived in District 3 for the majority of her life.  She grew up in the west side's Menlo Park neighborhood.   When she was 16, Betty and her three siblings Carlos Jr, Bobby, and Irma lost their mother Olga Moreno to ovarian cancer.  Three months later their father, Carlos Moreno,  an Army Korean War Disabled Veteran, passed from complications of Multiple Sclerosis. Betty is married to Juan Villegas, a retired schoolteacher.  They have two daughters, two sons, and six grandchildren. Betty recently retired after 17 years with Pima County as the Affordable Housing Program Manager. She is recognized for her knowledge, dedication, and work in affordable housing and community development. Betty always stays connected to the needs of the community by listening, and taking action to find solutions for people's problems.  As a breast cancer survivor and carrier of the BRCA 1 genetic mutation, she is an avid women's health advocate who understands the importance of access to quality healthcare for everyone.  Betty has been a lifelong voice for vulnerable populations and is running for office to represent and serve all people, especially the community she loves.  Throughout her life she has served on several boards and commissions that support and promote healthy living, a sense of place, and social justice. "
https://www.bettyvillegasazsenate.com/