by Carolyn Classen, blogger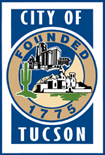 Up for re-election this year are Tucson Mayor Regina Romero (D), Tucson City Councilmembers in Ward 1 Dr. Lane Santa Cruz, Ward 2 Paul Cunningham, and Ward 4 Nikki Lee, all Democrats. Romero, Santa Cruz and Lee have served one term, Cunningham has served three terms plus.
Deadline for nomination petitions was 5 p.m. on April 3, 2023 and several people have filed as Democrats, Republicans and Libertarians:
https://www.tucsonaz.gov/files/clerks/Candidate_Listing.pdf
Only two primary races for the Democrats in Wards 1 and 2 with challengers Miguel Ortega in Ward 1 (rematch as he ran before for this seat in Nov. 2019) and newcomer Lisa Nutt in Ward 2.
All other races are uncontested till the General Election on Nov. 7, 2023:
Running for Mayor is the incumbent Regina Romero, challenged by Republican newcomer Janet Wittenbraker and Libertarian Arthur Kerschen, and Independent Ed Ackerley (rematch). 4 years ago Acklerley got 39.4% to Romero's 55.9%.
Also running unopposed  in Ward 1 is Republican Victoria Lem, in Ward 2 Republican Ernie Shack and Libertarian M.  Pendelton Spicer, all political newcomers, same with Ross Kaplowitch (R) in Ward 4.