When:
August 25, 2017 @ 7:00 am – 8:30 am
2017-08-25T07:00:00-07:00
2017-08-25T08:30:00-07:00
Where:
Viscount Suite Hotel
4855 E Broadway Blvd
Tucson, AZ 85711
USA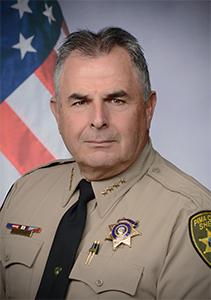 The 4Tucson Government Domain is honored to have Pima County Sheriff Mark Napier as our Guest Speaker!
"On January 1, 2017, Sheriff Mark Napier became the 34th Sheriff of Pima County. Sheriff Napier is a six-time decorated law enforcement professional with 29 years of experience. He began his law enforcement career with the Marshalltown Police Department in Iowa, before moving to Tucson, Arizona. In 1987, he became an officer with the Tucson Police Department, where he served for 21 years, retiring as a Captain in 2008. Sheriff Napier's assignments with the Tucson Police Department gave him experience in virtually every facet of the administration and operation of a law enforcement agency.
Upon retiring from the Tucson Police Department, Sheriff Napier continued his public service career, working with the United States Department of Justice and the Glendale Police Department. In addition to his law enforcement service, Sheriff Napier also served in the United States Army and was formerly the Associate Director of Operations for the University of Arizona Parking and Transportation Services.
Sheriff Napier has a Bachelor of Science Degree in Social Psychology and a Master's Degree in Criminal Justice. He has 11 years of experience in distance education with Boston University where he served as a Facilitator or Lead Facilitator for Boston University's On-line Masters in Criminal Justice Program.
Sheriff Napier has been happily married to his wife, Marlene, for 33 years and has four adult children and one grandchild. He has run in 42 half marathons and is a history buff with a particular interest in 20th century history. He also enjoys golfing and motorsports."
Register online: https://4tucson.regfox.com/government-fellowship-august-2017
Carolyn's note: Sheriff Mark Napier, a Republican, was elected to Pima County Sheriff in Nov. 2016, upsetting Democratic incumbent then-Sheriff Chris Nanos.  He had run unsuccessfully for this position in Nov. 2012 against then-Sheriff Democrat Clarence Dupnik, who later retired. Then-Chief deputy Nanos had been appointed to the position on August 1, 2015 by the Pima County Bd. of Supervisors.