by Carolyn Classen, blogger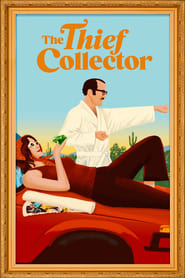 TUESDAY, MAY 30 AT 7:30PM
REGULAR ADMISSION PRICES
PASSES ACCEPTED
"Don't miss this one-night-only screening of the quirky new documentary about the theft of Willem de Kooning's "Woman-Ochre" painting from the University of Arizona Museum of Art, starring Glen Howerton (It's Always Sunny in Philadelphia)!
Who stole Willem de Kooning's "Woman-Ochre"? For 32 years, the theft of the abstract expressionist oil painting confounded the art community. Then valued at $400,000, it hung at the University of Arizona Museum of Art, and on Thanksgiving Day 1985, a couple calmly entered and cut it from its frame. Despite law enforcement's best efforts, it wasn't recovered — until New Mexico antique dealers inconspicuously acquired it in an estate sale, retrieving it from Jerry and Rita Alter's bedroom wall in 2017. The discovery sparked an exuberant celebration and an unresolvable investigation into the couple. Who were the Alters? Were they the quiet retired teachers that family and friends described, or was something more sinister hiding behind an unassuming façade? This highly stylized true crime documentary unravels the mystery behind the brazen art heist and the enigmatic couple thought responsible. Featuring playful reenactments starring Glenn Howerton (It's Always Sunny in Philadelphia) and Sarah Minnich (How to Blow Up a Pipeline), this fun, quirky documentary keeps viewers guessing until its stranger-than-fiction conclusion. (Dir. by Allison Otto, 2022, USA, 96 mins., Not Rated)"
Carolyn's note: Well, we in Tucson followed that gripping story about how the UAMA got that phone call from the art dealers of Manzanita Ridge furniture store over in Silver City, NM purportedly saying they had located the famous missing de Kooning painting at an estate sale in New Mexico.  I personally spoke with 2 of the UAMA art curators about this criminal case. And  I just saw that restored De Kooning original painting on May 6 before the current exhibit "Restored: The Return of Woman-Ochre"  closes on May 20, 2023. I wonder if we will ever know why that Alter couple kept the painting behind their bedroom door all those years? See the documentary to find out….