When:
October 23, 2016 @ 5:00 pm – 5:30 pm
2016-10-23T17:00:00-07:00
2016-10-23T17:30:00-07:00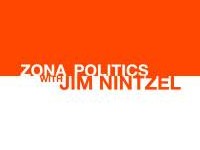 Sundays, 5 to 5:30 p.m. on KXCI Community Radio, 91.3 on the FM dial.
"Zona Politics is a half-hour public-affairs show where guests from across the political spectrum tackle the issues behind the week's headlines.
You can expect a lively, sometime contentious but always respectful conversation among political insiders, journalists and elected officials that strives to not only help viewers catch up on the big stories of the week, but also understand the political currents that drive those stories.
Host Jim Nintzel has covered politics for the Tucson Weekly and Arizona Public Media for two decades.
The Arizona Newspaper Association named him a 2014 Journalist of the Year and the Association of Alternative Newsmedia honored his long-running Tucson Weekly column, The Skinny, as the best alt-weekly political column in the country. He also serves as a Southern Arizona correspondent for Phoenix PBS affiliate KAET-8 and teaches government reporting at the UA School of Journalism."
Carolyn's note:  Zona Politics was on the TV for almost 2 years, and has now found a new home on the radio at KXCI. Jim Nintzel started off this new format by interviewing on Sunday Oct. 16:
"Zona Politics is back with a new radio show this afternoon on KXCI Community Radio, 91.3 FM. Tune in at 5 p.m. to hear one-on-one interviews with DemocratTom O'Halleran, the former state lawmaker who is running against Pinal County Sheriff Paul Babeu in Arizona's First Congressional District, and Democrat Brian Bickel, who hopes to unseat Republican Pima County Supervisor Ally Miller.