The USS John McCain survived a fatal collision with a merchant ship in which 10 sailors were killed on Aug. 21, 2017, USS McCain leaves dry dock 15 months after collision that killed 10 sailors, and its commanding officer having plead guilty to negligence, Former CO of USS John S. McCain Pleads Guilty to Negligence in Collision Case, only to suffer another collision with our Twitter-troll-in-chief on a state visit to Japan.
Steve Benen has the tick-tock of events that have unfolded over the past week. White House dramatically changes its story about Trump, USS McCain:
It was just a few days ago when we learned about emails the White House sent to the U.S. Navy, directing military officials to move the USS John McCain "out of sight" ahead of Donald Trump's visit to Japan. In the days that followed, the reaction from the president and his team has followed a circuitous path.
The initial response from the Trump administration was surprise and incredulity. For his part, the president told reporters on Thursday, "I would never have done that," while insisting he wasn't directly involved. By the end of the day, Trump turned to Twitter to say, in response to the reporting, "Looks like the story was an exaggeration, or even Fake News."
Two days later, the Navy confirmed that the story wasn't "fake" at all.
The U.S. Navy has acknowledged that a request was made to hide the USS John S. McCain during President Donald Trump's recent state visit to Japan.

"A request was made to the U.S. Navy to minimize the visibility of USS John S. McCain, however, all ships remained in their normal configuration during the President's visit," Rear Admiral Charlie Brown, chief of information, said in a statement to NBC News.
The passive-voice phrasing – a "request was made" – downplayed the fact that the directive came from the White House.
All of which led to yesterday, when acting White House Chief of Staff Mick Mulvaney decided to embrace the central tenet of the report that his boss had denounced a few days earlier. This was the exchange yesterday morning between Mulvaney and NBC News' Chuck Todd on "Meet the Press":
TODD: Very quickly, are you confident that it was nobody in the White House or a White House advance-person that made the request to the Navy to cover up the U.S.S. John McCain?

MULVANEY: Oh no, I absolutely believe it was probably somebody on the advance team.

TODD: Are there any consequences for this?

MULVANEY: Look, I'll answer your question. An advance team is hundreds of people. You know this better than anyone, you've been overseas with the president of the United States. The fact that some 23 or 24-year-old person on the advance team went to that sight and said "Oh my goodness, there's the John McCain" we all know how the president feels about the former senator, maybe that's not the best backdrop, can somebody look into moving it. That's not an unreasonable thing to ask.

TODD: Seriously?
The host's response, of course, was the appropriate one, but Mulvaney was not kidding. In fact, he made a similar pitch soon after on "Fox News Sunday," telling Chris Wallace the White House's directive was similar to arranging an office meeting and separating two people who don't get along.
So to recap, Donald Trump is such a delicate snowflake that the White House directed the U.S. Navy to move a warship so the president wouldn't have to see the name of a deceased American hero.
Note: The USS John McCain is not named after only the senator, who was a navy pilot and POW, but also after his father and grandfather who were Navy admirals; three generations of McCains.
Team Trump initially denied the story, then confirmed it, then called it "fake," then confirmed it again, then dismissed its significance by defending the president's contempt for the late senator.
This, according to the White House, is "reasonable."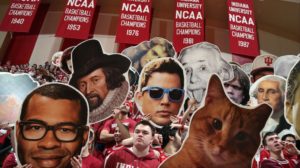 Since snowflake Trump is so easy to set off in a rage with just the mention of John McCain's name, I am going to propose a national campaign to troll our Twitter-troll-in chief as he launches his reelection campaign in Orlando, Florida on June 18.
You know those cardboard giant heads you see at NCAA college basketball games, and other sporting events? Yeah, let's do that.
Everywhere Trump goes he should be confronted by people carrying cardboard giant heads of John MCCain just to offend his delicate snowflake sensibilities and send him into a rage. He is bound to say something offensive and stupid, demonstrating that he is a small and petty man who is unworthy of the presidency.
I will preemptively respond to Meghan McCain, who no doubt will whine Leave my father out of 2020 politics. "Only I get to do that! Profiting off of my daddy's name is my racket. Get off my lawn!" Yeah, shut up poor little rich girl. Your daddy was a public figure and is in the public domain. People are tired of your shtick. Go away.
More importantly is this issue of "Cadet Bone Spurs" politicizing our military, whom he too frequently refers to as my military. Pentagon tells White House that military 'will not be politicized' after USS McCain incident:
The Pentagon has reportedly communicated to the White House that it will not allow the U.S. military to be politicized, a move that comes amid a controversy involving a directive to keep the USS John S. McCain out of President Trump's sight during his visit to Japan.
Acting Defense Secretary Patrick Shanahan "directed his chief of staff to speak with the White House military office and reaffirm his mandate that the Department of Defense will not be politicized," Lt. Col. Joe Buccino, a Pentagon spokesman, said in a statement, according to Reuters. "The chief of staff reported that he did reinforce this message."
The Wall Street Journal first reported last week that the White House asked the U.S. Navy to make sure the USS John S. McCain would be "out of sight" while he visited troops stationed in Japan.
* * *
Shanahan reportedly called on his chief of staff to find out what happened in regard to the request following The Wall Street Journal report.
Shanahan told reporters Sunday that he had no plans of demanding an inspector general investigation, Reuters noted.
"There is no room for politicizing the military," Shanahan said, according to the news service.
Shanahan added that his chief of staff was unaware of the White House request and that a review had not discovered any emails to his team related to the issue.
Also, the Navy is reviewing 'Make Aircrew Great Again' patches worn by sailors during Trump visit: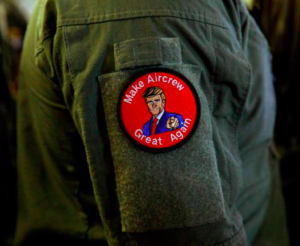 The Navy is conducting a review to examine whether President Donald Trump-themed patches worn by sailors on their uniforms during the President's visit to the USS Wasp violated Navy rules.
"Navy leadership is aware of the incident and reviewing to ensure the patch doesn't violate DoD policy or uniform regulations," US Navy spokesperson Lt. Sam Boyle told CNN.
Several service members aboard the USS Wasp were seen wearing the patches when Trump addressed sailors on Tuesday. The patches showed a Trump-like image and the slogan "Make Aircrew Great Again."
* * *
Military personnel often wear unofficial unit patches, sometimes imbued with humorous images, as part of an effort to build unit cohesion and morale.
However, service members are prohibited from exhibiting political messages while in uniform.
Unit commanders are usually responsible for ensuring that the unofficial patches do not violate military regulations.
Department of Defense guidelines say that "active duty personnel may not engage in partisan political activities and all military personnel should avoid the inference that their political activities imply or appear to imply DoD sponsorship, approval, or endorsement of a political candidate, campaign, or cause."
Seems likely that some disciplinary action of this air crew is in order.
Finally, there is Cadet Bone Spurs' plan to turn the Capitol Fourth of July into a military parade like Russia and North Korea do and to make himself the center of attention. Trump's Plan For A 4th Of July Celebration Starring Himself Is Reportedly In The Works: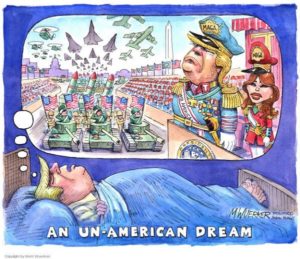 President Donald Trump is going full steam ahead with a plan he mentioned months ago to take over the traditional July 4th festivities on the National Mall, which now likely will feature a speech by him, The Washington Post reported.
The takeover threatens to turn a nonpartisan national celebration on public land into a Trump campaign rally.
Trump and Interior Secretary David Bernhardt have already "taken charge" of the celebration, according to the Post. The fireworks launch will be moved from the Mall to West Potomac Park under the new scheme. And Trump has made "tentative" plans to deliver a speech from the steps of the Lincoln Memorial, Trump administration officials told the newspaper.
Trump first mentioned his plans in February in a tweet, bizarrely urging followers  to "HOLD THE DATE" — as if that had never occurred before to vacationing Americans. He promised then an "address by your favorite President, me!"
He was mocked by critics who accused Trump of hijacking a national holiday as a way to honor himself.
The National Park Service has staged the traditional fireworks on the Mall for more than half a century, an event attended by hundreds of thousands of Americans each year. The event has been broadcast live on TV since 1947 and includes a free concert on the West Lawn of the Capitol.
Trump has dubbed the new event "A Salute to America."
Rep. Betty McCollum (D-Minn.), chair of the House Appropriations subcommittee responsible for the Interior Department budget, criticized Trump's attempt to change a national holiday into an event about him.
"It's not about any one person, it's about 'We, the people,'" she told the Post. "If the president moves to make this about him, I think he will find the American public disappointed and angered by it."
Bernhardt told the Post: "I think the president is excited about the idea, and we're working hard on it, and I think it could be very, very meaningful. The president loves the idea, as probably all Americans do, of celebrating America on the Fourth of July, or thereabouts."  Whaaa?
A local official expressed worries about costs incurred by event changes and about security for the president amid hundreds of thousands of people, creating a situation that could reduce public access.
Trump pushed for a large-scale military parade in Washington after viewing the Bastille Day independence celebration in Paris in 2017, but it didn't work out. The upcoming celebration appears to be his second choice.
To preserve its nonpartisan character, presidents have not attended the public July 4th celebration on the National Mall.
Until now, apparently. Trump ruins everything.
UPDATE: Great minds think alike, apparently. British activists mock Trump with gigantic images celebrating Obama and John McCain:
British activists projected gigantic images on London landmarks intended to irritate President Donald Trump during his visit.
Trump arrived Monday in the United Kingdom, and anti-Brexit campaign group Led By Donkeys projected an image of a USS John McCain cap projected onto Madame Tussaud's[.]
"We read the story about the sailors on a US warship being ordered to hide from you because you're triggered by the name on their hats," the group tweeted. "So we turned Madame Tussaud's into a giant USS John McCain baseball cap. Welcome to London!"