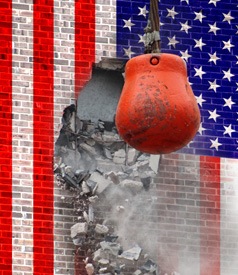 For those of you who have been distracted by other less important matters, as of today we are officially in a constitutional crisis.
The threat to our democracy is now at DEFCON 1. To paraphrase, "Now is the time for all good men and women to come to the aid of their country." This is not a drill.
Republicans on the House Intelligence Committee disregarded a Justice Department  letter last week to Rep. Devin Nunes, the committee's Republican chairman, from Stephen E. Boyd, an assistant attorney general, advising him it would be "extraordinarily reckless" to release the "Nunes Memo" drawing on classified information without official review.
According to the ranking minority member on the committee Rep. Adam Schiff, and the Transcript of House Intelligence Committee Meeting Regarding the Nunes Memo, the committee chairman, Devin Nunes, despite meeting with FBI Director Wray on Sunday regarding the concerns of the FBI, refused to even hear from the FBI in the committee hearing regarding their concerns for national security sources and methods (pp.2-21):
* * *
It should be noted that this committee hearing was the first time it was disclosed to Democrats on the committee that chairman Devin Nunes and several Republican members on his committee were conducting their own investigation into the FBI and Department of Justice, something that was not approved by a vote of the committee.