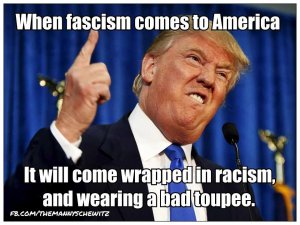 President Donald Trump gave a speech in Poland yesterday that contained all the white nationalist talking points of his alt-right advisers Steve Bannon and Stephen Miller. Trump cast the world as being in a clash of civilizations between Muslim terrorists and the West. Transcript:
This continent no longer confronts the specter of communism. But today, we're in the West, and we have to say, there are dire threats to our security and to our way of life.
You see what's happening out there. They are threats. We will confront them. We will win. But they are threats.
We are confronted by another oppressive ideology, one that seeks to export terrorism and extremism all around the globe.
America and others have suffered one terror attack after another. We're going to get it to stop.
During a historic gathering in Saudi Arabia, I called on the leaders of more than 50 Muslim nations to join together to drive out this menace which threatens all of humanity. We must stand united against these shared enemies to strip them of their territory and their funding and their networks and any form of ideological support that they may have.
While we will always welcome new citizens who share our values and love our people, our borders will always be closed to terrorism and extremism of any kind.
We are fighting hard against radical Islamic terrorism. And we will prevail.
We cannot accept those who reject our values and who use hatred to justify violence against the innocent.
Today, the West is also confronted by the powers that seek to test our will, undermine our confidence and challenge our interests.
Then oddly, Trump identifies "government "bureaucracy" as enemies:
Finally, on both sides of the Atlantic, our citizens are confronted by yet another danger, one firmly within our control. This danger is invisible to some but familiar to the Poles: the steady creep of government bureaucracy that drains the vitality and wealth of the people.
The West became great, not because of paperwork and regulations, but because people were allowed to chase their dreams and pursue their destinies.
Americans, Poles and nations of Europe value freedom and sovereignty. We must work together to confront forces, whether they come inside or out, from the south or the east, that threaten over time to undermine these values and to erase the bonds of culture, faith and tradition that make us who we are.
If left unchecked, these forces will undermine our courage, sap our spirit and weaken our will to defend ourselves and our societies.
This is Doctor Stragelove's General Jack Ripper: "I can no longer sit back and allow Communist infiltration, Communist indoctrination, Communist subversion and the international Communist conspiracy to sap and impurify all of our precious bodily fluids."