Eighty percent of the farm bill's spending is on nutrition programs, e.g., the Supplemental Nutrition Assistance Program (SNAP) (formerly food stamps), but House Republicans want to start making work requirements for recipients harsher in order to benefit from these programs. No such requirements apply to the corporate welfare handed out to corporate executives to the tune of billions of dollars.
Tara Golshen at Vox.com has an explainer, House Republicans' push to slash food stamps in the farm bill, explained:
The first draft of House Republicans' farm bill, a $867 billion legislative package that subsidizes agriculture and food assistance programs, which Democrats say was written behind closed doors and without Democratic input. The bill has already passed out of the House Committee on Agriculture using only Republican votes. This is somewhat unusual — the farm bill has historically been bipartisan but has been plagued by a polarizing push over food assistance in recent years.
Rep. Collin Peterson, a conservative Minnesota Democrat and the Agricultural Committee's ranking member, gave an impassioned statement just ahead of the partisan vote, saying, "We were pushed away by an ideological fight I repeatedly warned the chairman not to start."
The House Rules Committee will devote Tuesday and Wednesday to the 2018 farm bill as members plow through a long list of amendments, raising the possibility of heated debate before it faces a floor vote later this week. Farm Bill Gets Two Days of House Rules Committee Consideration.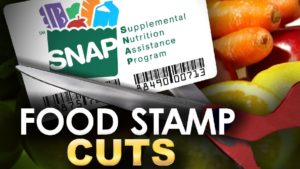 The Republican proposal to impose stricter work requirements and anti-fraud measures on the Supplemental Nutrition Assistance Program — commonly known as food stamps — is estimated to slash $20 billion from the program's benefits over the next 10 years. One million people in households of more than 2 million individual could be pushed off the program or experience reduced benefits, according to an analysis by the left-leaning Center on Budget and Policy Priorities.