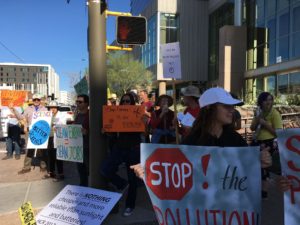 I want to thank everyone who took a stand against TEP's proposed RICE gas-fired generators. We are awaiting responses from the Pima Department of Environmental Quality regarding our comments. I'm afraid this is just the beginning….
Here is my e-mail to Mayor Rothschild and the Tucson City Council members detailing our efforts and asking for them to join the good fight. I hope this inspires you to write a letter to your council member (maybe not so long…lol)
Find your City Council Member here.
Find which ward you are in here.
Dear City Council Member_____,
The city council committed to support the Paris Climate Agreement and take steps to combat climate change. But it will take a more proactive approach than adding some solar panels on city property or installing a few water recharge basins.
With some strong leadership, Tucson could become a model for sustainable practices. An oasis in the desert. A destination for ecological tourism. But none of this will be possible if we continue to accelerate climate change by allowing TEP to install 10 gas-fired RICE generators, encouraging our car culture by widening roads, and approving perpetual development (beyond what our annual rains can sustain.)
First things first. As you know, TEP is proposing modernizing the Sundt Generating Station by replacing two 1950's era steam units with ten natural gas fired combustion engines. The purpose of the new generators is to ramp up more quickly and to balance the variability associated with solar and wind energy generation. TEP claims that these units are part of a larger goal for 30% renewable energy by 2030. But gas fired engines should not be equated with clean, renewable power from wind and solar. The RICE units are fossil-fuel based generating units that would create significant greenhouse gas emissions. According to the Pima County Department of Environmental Quality, the project expects to cause an increase in emissions of carbon monoxide, particulate matter (fine particles PM2.5 and coarse particles PM10) and volatile organic compounds.