You might have noticed the lovely Broadmoor Broadway Village Neighborhood located in central Tucson just south of Broadway between Tucson Boulevard and Country Club Roads. But did you know that Broadmoor Broadway Village is a historic showcase of how a neighborhood can be transformed into a colorful community gathering place? Reading the history of the Treat Walkway is practically a step by step guide for growing and maintaining green infrastructure and livable streets!
The neighborhood's journey is an inspiring example of what can be done when a group of dedicated people work together with landscaping experts, neighborhood artists, and the city to create walkable/bikeable streets shaded by desert trees where neighbors can enjoy being outside and being together. These neighbors didn't just build a walkway, they built a caring community.
According to Broadmoor neighbor Richard Roati, when Broadmoor Broadway Village became an official neighborhood under the leadership of neighborhood President Connie Anzalone in the 1980's, improving the Treat Walkway was made part of the neighborhood's strategic plan. They prioritized the living environment of the neighborhood. In 1987, Connie Anzalone wrote the "Broadmoor Broadway Village Urban Forestry Manual." Long before "Climate Change" became a household word, Connie defined why the greening of in-town neighborhoods should be a priority for the City of Tucson.
Let us show the City of Tucson that progress for the future is not only big business, high density living quarters and more transportation routes. It can also be producing life-giving oxygen to improve air quality in a congested urban area. It can also be providing a system of roots to aerate the soil to accept rainwater and prevent erosion. It can be providing homes for wildlife to maintain a better balance in nature… Bare spaces can be augmented with even the most simple easy care things like a Palo Verde tree, a desert broom bush, succulents that never need watering like prickly pear bush, agaves or aloes, or a dish garden.
A reality of life in Southern Arizona is the seasonal heat, which is worse in urban Tucson than the surrounding open spaces because of all the cement, glass, asphalt, cars, air conditioners, etc. Trees can buffer us from the extremes of high temperatures with their shade, and evapotranspiration… Not only does the residential urban forest help to buffer noise and air pollution, provide shade and micro-climate control, and increase property values, but it provides wildlife habitat, supplies us with food, and beautifies/unifies our neighborhood.
Connie Anzalone was well known for being a neighborhood leader who joined with other neighbors to stand in front of Army Corps of Engineers bulldozers that were poised to remove all the vegetation from Arroyo Chico and channelize the wash with concrete in the early 1980's. Because of the efforts of her "little old ladies club," Arroyo Chico remains un-channelized with native trees along much of its banks.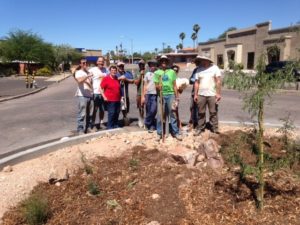 That wasn't the only time the neighborhood made history. In 2008, BBVNA  built the first water-harvesting pocket park in the City of Tucson: Malvern Plaza. The intersection of Malvern Avenue and Arroyo Chico, a large swatch of asphalt was removed by City of Tucson work crews, basins were constructed, and Palo Verde, Mesquite, and Netleaf Hackberry trees were planted. Today, the trees are more than 20 feet tall. During the monsoon rains, the basins flood with water from Malvern Avenue, replenishing the trees. The plaza is otherwise unirrigated. Talk about sustainable!
Read the condensed version of the "Short History of the Treat Walkway and Other Urban Forestry Efforts in BBVNA" at my blog Sustainable Living Tucson:
Broadmoor Broadway Village Neighborhood: a showcase for growing green infrastructure and livable streets
As one of the first planned subdivisions built after World War II and a pioneer in urban forestry,  Broadmoor Broadway Village Neighborhood is an important part of Tucson's history. It sits adjacent to three historic neighborhoods: Sam Huges, Miramonte, and Colonia Solana. The people who worked so hard to build this lovely neighborhood with green infrastructure and livable streets watch anxiously as development encroaches on their backyards. Three seven story apartment buildings have been proposed for the Benedictine Monastery site on Country Club Road, and a 20 story apartment complex proposed for the corner of Campbell and Speedway. As a neighborhood of single family homes, their properties are under threat because of their proximity to the U of A – that is perceived to be worth more with high rise apartments. But this is one neighborhood that won't go down without a good fight.
The neighborhood is currently in the process of applying for historic designation from the State Historic Preservation Office to protect the neighborhood from overzealous development.
Connie Anzalone and her "little old ladies club" would be proud!