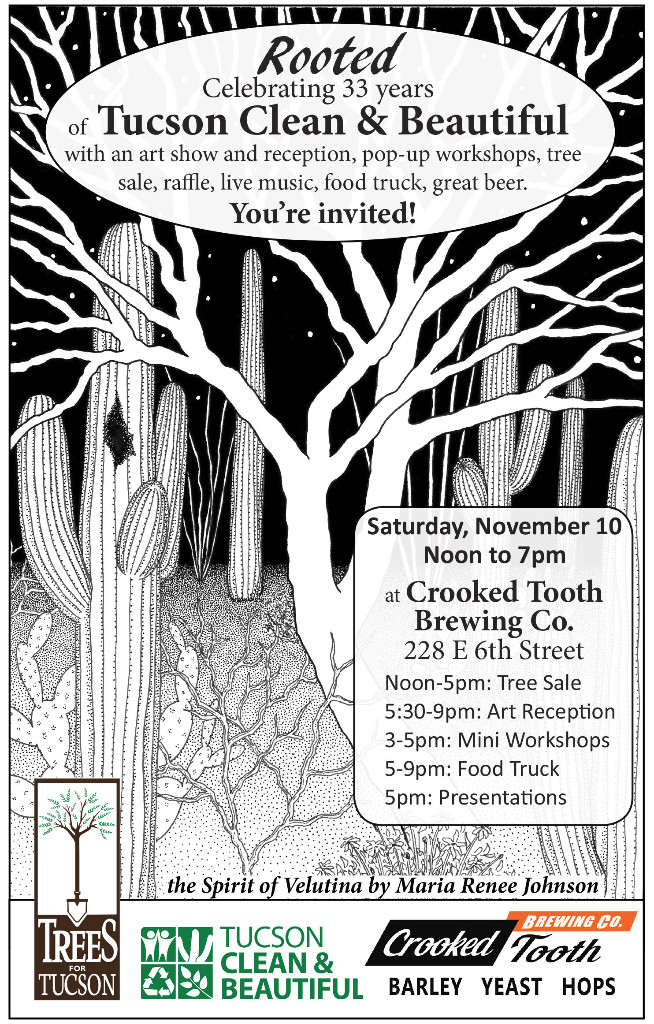 "Thank you for your support and encouragement in 2018!
At Tucson Clean and Beautiful, we believe the combined and coordinated efforts of all of our simple acts create regional change. Thanks to each one of you for your volunteerism and generosity. Whether you cleaned up your neighborhood, snagged a stray piece of litter, planted a tree (or two), gathered rainwater, reduced your use and recycled, helped your neighbor, or so many other simple acts – you make this special place we call home a little bit better. All added together, it is change for the good.
Come visit the Tucson Clean and Beautiful staff, board of directors, and volunteers as we celebrate 33 years of making Tucson a little cleaner and greener, a little cooler, a more beautiful place to live, work, and play. We'll be at Crooked Tooth Brewing Company, 228 E 6th St, Tucson, AZ 85705 from Noon to 9PM for the Tucson Clean and Beautiful 2nd Annual ROOTED Celebration. We'll have a pop up tree sale, workshops, and environmental themed art from 20 of Tucson's finest artists."
https://tucsoncleanandbeautiful.org/
Support volunteer citizen journalism at the Blog for Arizona with a donation today. Your PayPal contribution keeps the Blog online and sustains a free press in Arizona.