Paul Gosar is at it again.
Hopefully, the residents of Arizona Congressional District Four or whatever district is formed in that general geographic area of the Grand Canyon state after redistricting, are starting to notice.
The House Representative, whose siblings have endorsed the last two Democratic Congressional nominees over their own brother, has earned two more points into the political hall of shame and disrepute.
First, Mr. Gosar endorsed Arizona Gubernatorial Candidate Kari Lake. She is perhaps the fringiest alt-right radical candidate running for Arizona Governor in the 2022 cycle.
1/3 I am proud to endorse Kari Lake to be our next Governor. Arizona is at a cross-roads and the state needs a governor who will work with the people, and for the people, and not just special interests.

Kari is America First all day, 24-7. pic.twitter.com/sk26VloGxY

— Paul Gosar (@DrPaulGosar) October 7, 2021
This is the same Kari Lake who:
has been endorsed by Donald Trump (apparently she thinks the twice impeached KKK candidate

should be

on Mount Rushmore.)

enables Know Nothing-science denying anti-maskers and anti-vaxers with her alternative reality positions.
thinks the Capitol Police invited the Domestic Terrorists who stormed the Nation's Capitol on January 6, 2021.
Does this look like good judgment on the part of Mr. Gosar?
Mr. Gosar also took part in another activity he has enjoyed in the past: posting an article on social media with links to a known Holocaust denier site.
Incredible report from @michellemalkin on more America Last policies. Now hospitals are refusing to provide life saving organ transplants to unvaccinated people even those with approved exemptions. This is unethical. https://t.co/UA9vsVBgok

— Paul Gosar (@DrPaulGosar) October 6, 2021
Unfortunately for the people of Arizona Congressional District Four, this is far from the first time Mr. Gosar has combined his interests with those of fringe-white nationalist-hate groups.
Please click here to see earlier articles documenting Gosar's attraction towards such deplorable social media sites.
Do the people of Congressional District Four really want to continue with a Representative who thinks it is appropriate to endorse fringe candidates and share links (and positions like Replacement Theory) with Holocaust deniers and racist groups?
The two Democrats seeking to defeat Gosar in the 2022 elections have certainly had enough of Mr. Gosar's fondness for all things far-right and white nationalists.
2020 Democratic Congressional District Four Nominee and 2022 candidate Delina DiSanto offered: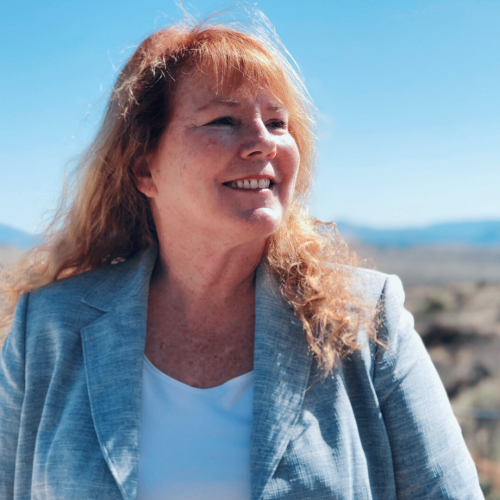 "All I have to say is we hear over and over again, about Paul Gosar, promoting a white nationalist caucus in Congress, pals with white supremacists, called the terrorists who attacked our Capitol "peaceful protestors", speaks at white nationalist events, aligns himself with Victor Orban, Prime Minister of Hungary who believes in white nationalism, spoke at a rally in England to release an Anti-Muslim activist on our tax dollars, and continues his lies and conspiracy theories to promote hate and division regarding our elections. I can continue. 
Paul Gosar found a dark niche to gain attention and fuel the hate and divide in our country. He is encouraging terrorist acts in the name of patriotism. He now seems to have gained a pal Kari Lake. 
You are the company you keep. 
Paul Gosar is dangerous and cancer to our democracy. We cannot stand by and ignore his behavior and rhetoric. I'm not. I'm fighting. I'm running to defeat Paul Gosar. I know you may be spread thin from being asked by all candidates to support them, but if you don't help me defeat Gosar, he will continue to be the demise of our state and what we hold to be a true democracy."
Another 2022 Democratic candidate, Judy Stahl, commented:
"Gosar's rampant racism and antisemitism make him unfit to hold office. Full stop. His job is to represent ALL members of his district, yet he consistently chooses to fail in his responsibilities as the representative for AZ04. Furthermore, he is causing immeasurable damage to our democracy and community by disseminating false information. In contrast, I am reaching out to folks from all walks of life in our district because I genuinely want to see their voices heard in Congress and their problems solved. While working to provide solutions for our community, I am consulting with stakeholders and experts, so I can provide voters with accurate information and make transparent decisions once I am elected." 
It is time for the people of Congressional District Four to finally listen to Paul Gosar's siblings.
If they will never vote for Gosar given his dubious record of "public service" and the radical positions he subscribes to, then why should the people in Mr. Gosar's district?
Vote him out in 2022.