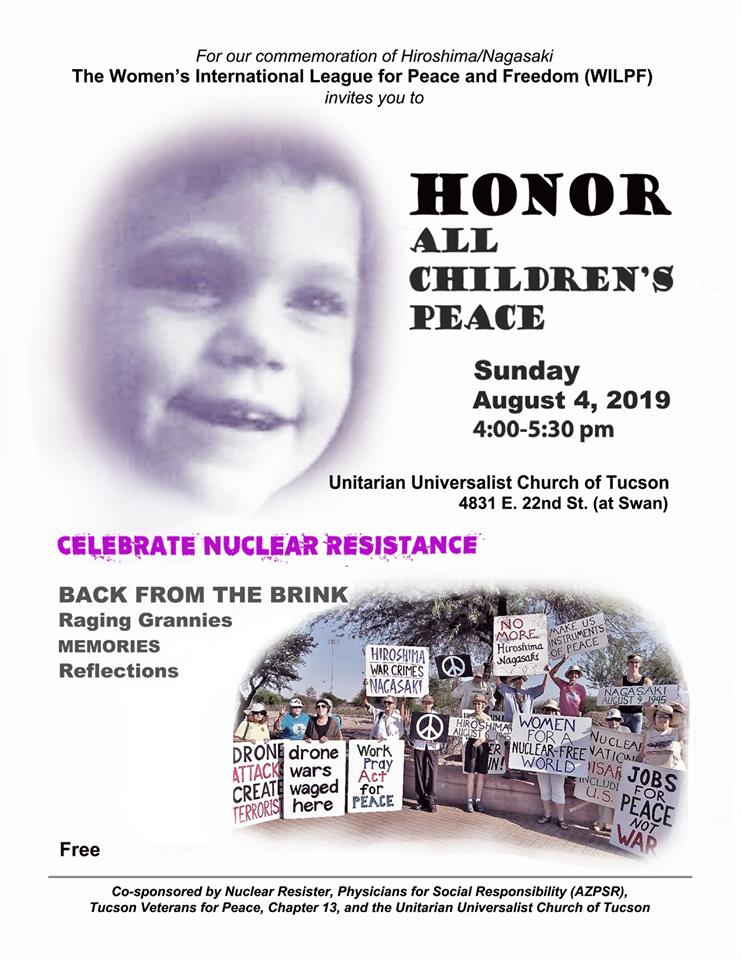 Hiroshima (where my family emigrated from in 1892) was bombed in WWII on August 6, 1945, followed by Nagasaki on August 9, 1945.
"The public is invited to gather to mark the 74th anniversary of the atomic bombings of Hiroshima and Nagasaki, Japan by the United States during World War II. This beautiful and moving tradition remembers and honors those who suffered the bombings in 1945 and reaffirms our commitment to a nuclear-free world so that such a tragedy is never repeated.

The event is organized by Women's International League for Peace and Freedom (WILPF) and co-sponsored by PSRAZ- Physicians for Social Responsibility of Southern Arizona, Veterans for Peace Chapter 13,
 The Nuclear Resister and The Unitarian Universalist Church of Tucson to observe the anniversary of the Atomic weapons detonated over the Japanese cities of Hiroshima and Nagasaki on August 6 and 9, 1945, respectively. 
The event starts at 4 p.m. at the
 Unitarian Church
4851 E 22nd St. in Tucson, AZ"