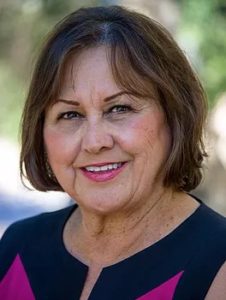 In the crowded race to be Tucson's Congresswoman, Mary Matiella stands out as the candidate who has experience in the federal government, a personal story of succeeding against big odds and a relatable presence that appeals to voters.
Experience, accessibility, and personality are the primary reasons she can beat incumbent train wreck, Rep. Martha McSally, but there are actually 8 good reasons:
1. Matiella's positions are well fleshed out, favoring progressive ideas like Medicare for all and debt-free higher education, along with centrist positions like creating jobs by rebuilding infrastructure and eliminating waste in government. And she is "100% against the border wall."
She bills herself as an unapologetic progressive candidate, but adds, "I'm not too liberal for the congressional district. Everything that I believe in has resonated with the vast majority of the people. I'm pretty well in line with the Democratic constituents here in the district. The folks I would like to swing over to our side are the independents — that's one-third of the voters."
In contrast, McSally avoids taking a stand on most issues. But McSally's votes betray her right-wing positions, as she voted to repeal Obamacare, voted to cut funding for Planned Parenthood, and voted 95% in line with the Trump position.
2. Matiella has attracted key endorsements from US Rep. Raúl Grijalva, the progressive PAC Democracy for America, Pima County Supervisors Sharon Bronson and Richard Elias, Tucson City Council members Regina Romero and Paul Cunningham and TUSD Board member Adelita Grijalva.