This week marks the centennial anniversary of the United States entry into World War I, the "Great War" and the "war to end all wars." Lest we forget, World War I and its consequences shaped the events to follow in the 20th Century.
Surprisingly, this centennial anniversary has received little to no attention in the American media.
Yesterday, April 2, was the anniversary of President Woodrow Wilson asking Congress for a declaration of war against Germany. It went without notice in the American media. Wilson asks for declaration of war: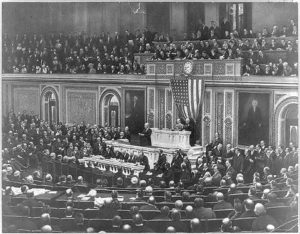 On April 2, 1917, President Woodrow Wilson asked Congress to send U.S. troops into battle against Germany in World War I. In his address to Congress that day, Wilson lamented it is a fearful thing to lead this great peaceful people into war. Four days later, on April 6, Congress obliged and declared war on Germany.
In February and March 1917, Germany, embroiled in war with Britain, France and Russia, increased its attacks on neutral shipping in the Atlantic and offered, in the form of the so-called Zimmermann Telegram, to help Mexico regain Texas, New Mexico and Arizona if it would join Germany in a war against the United States. The public outcry against Germany buoyed President Wilson in asking Congress to abandon America's neutrality to make the world safe for democracy.
Wilson went on to lead what was at the time the largest war-mobilization effort in the country's history. At first, Wilson asked only for volunteer soldiers, but soon realized voluntary enlistment would not raise a sufficient number of troops and signed the Selective Service Act in May 1917. The Selective Service Act required men between 21 and 35 years of age to register for the draft, increasing the size of the army from 200,000 troops to 4 million by the end of the war.
More than four million American families sent their sons and daughters to serve in uniform during the Great War. 116,516 U.S. soldiers gave their lives in combat. Another 200,000 were wounded (a casualty rate far greater than in World War II).