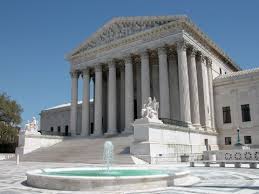 The U.S. Supreme Court today cleared away almost all of the low lying fruit, leaving the "Big 6" decisions to be announced this Thursday or next Monday.
UPDATE: The Court has added Friday as well!
This Court really loves all the drama queen attention.
There is no way to predict which opinions will be announced on which day, or what combination of opinions will be announced on each day. But there will be landmark decisions announced on both Thursday, Friday and Monday. A week from today all the suspense will be over, and the next round of games will begin!
Here are the remaining opinions to be issued (h/t SCOTUSblog.com):
Johnson v. U.S., No. 13-7120
Issue(s): (1) Whether mere possession of a short-barreled shotgun should be treated as a violent felony under the Armed Career Criminal Act. (2) Whether the residual clause in the Armed Career Criminal Act is unconstitutionally vague.
Texas Department of Housing and Community Affairs v. The Inclusive Communities Project, No. 13-1371
Issue(s): Whether disparate-impact claims are cognizable under the Fair Housing Act.