The Hill reports today, Congress strikes deal on funding for 2017 to avoid shutdown:
Congressional negotiators have signed off on a deal to fund the government through September, avoiding a shutdown of federal agencies over a dispute on President Trump's border wall and other issues, according to two senior congressional aides.
The legislation does not provide funding for construction of a wall along the U.S.-Mexico border or eliminate money for so-called sanctuary cities that do not fully cooperate with federal immigration law, according to a summary provided by a senior congressional aide.
Nor does it cut funding for Planned Parenthood.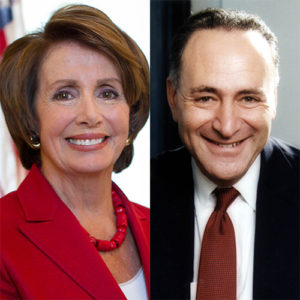 These are major victories for Senate Democratic Leader Charles Schumer (N.Y.) and House Democratic Leader Nancy Pelosi (Calif.), who threatened to block the bill over such poison-pill riders.
[F]or Republicans, the measure provides $1.5 billion for border security and $15 billion in additional defense funding — though it's short the $30 billion in supplemental military funding Trump requested in his budget blueprint.
The defense increase is matched by a boost to non-defense programs for a total of $30 billion in additional funding over the sequester level set by a previous budget deal. None of Trump's $18 billion in non-defense cuts were included.
The National Institutes of Health, a priority of Democratic and Republican lawmakers alike, will see a $2 billion funding increase, to give it $34 billion total.
The deal protects 99 percent of the Environmental Protection Agency's budget and increases clean energy and science funding in spite of Trump's calls to cut all three priorities.