Enjoy your Thanksgiving dinner and turkey leftovers, because we may be two weeks away from a government shutdown. Politico reports, Congress speeds toward shutdown over Dreamers:
Concern is growing in both parties that a clash over the fate of Dreamers will trigger a government shutdown this December.
House conservatives have warned Speaker Paul Ryan against lumping a fix for undocumented immigrants who came to the country as minors into a year-end spending deal. They want him to keep the two issues separate and delay immigration negotiations into 2018 to increase their leverage — which both Ryan and the White House consider reasonable.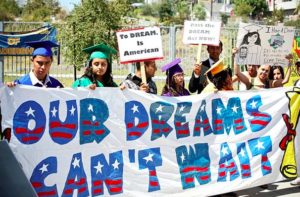 But many liberal Democrats have already vowed to withhold votes from the spending bill should it not address Dreamers, putting Democratic leaders Rep. Nancy Pelosi of California and Sen. Chuck Schumer of New York in an awkward spot if they don't go along.
Democrats know Republicans need their votes to fund the government past the current Dec. 8 deadline, and many want Pelosi and Schumer to stand firm against the must-pass bill until leaders save the Obama-era Deferred Action for Childhood Arrivals program.
"We want a clean DREAM Act," said Rep. Luis Gutiérrez (D-Ill.), referring to legislation that provides a pathway to citizenship for the young adults. "That is what it's going to take for me and others to sign on."
Ryan (R-Wis.), Pelosi, Schumerand Senate Majority Leader Mitch McConnell (R-Ky.) are already discussing a short-term government-funding extension to buy themselves more time to negotiate, likely culminating in a Christmastime collision.