The New York Times reports that three lawsuits have already been filed against Trump's fraudulent "voter fraud" commission. 3 Lawsuits Filed Against White House Panel on Voter Fraud: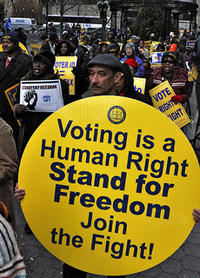 [T]he White House panel investigating claims of voter fraud and other irregularities was hit with a salvo of lawsuits on Monday that accused it of violating federal privacy laws and illegally operating in secret.
Three lawsuits, filed separately by civil rights groups, underscored the depth of opposition by the Trump administration's critics to the panel, the Advisory Commission on Election Integrity, even before it formally meets. The commission's official mandate is to look at flaws in federal voting systems and practices that could encourage fraud and undermine public confidence in elections.
But advocacy groups and many Democratic leaders have called it a Potemkin exercise intended to validate President Trump's groundless claim that millions of illegal ballots cost him a popular-vote victory in November. The true goal, they say, is to lay the groundwork for Congress to place strict qualifications on registering and voting that would primarily suppress opposition to Republican candidates for office.