The Washington Post provided editorial space to Donald Trump on Sunday for his alternative facts propaganda and egomaniacal self-aggrandizement. President Trump: In my first 100 days, I kept my promise to Americans.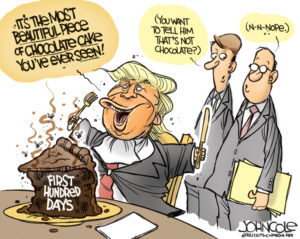 This is no way close to being true.
Aaron Blake of the Washington Post again provides an annotated version of Trump's op-ed to provide context and a healthy dose of reality. Trump's glowing op-ed about his first 100 days, with some badly needed context. Click on the yellow highlight's for Blake's annotations.
The Washington Post fact checkers write, President Trump's first 100 days: The fact check tally:
President Trump is the most fact-challenged politician that The Fact Checker has ever encountered. He earned 59 Four-Pinocchio ratings during his campaign as president. Since then, he's earned 16 more Four-Pinocchio ratings.
But those numbers obscure the fact that the pace and volume of the president's misstatements means that we cannot possibly keep up. The president's speeches and interviews are so chock full of false and misleading claims that The Fact Checker often must resort to roundups that offer a brief summary of the facts that the president has gotten wrong.