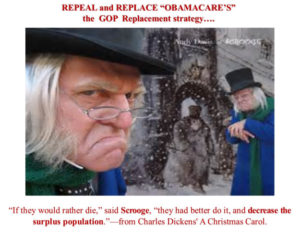 Just as anyone with even a rudimentary knowledge of health care policy had predicted, the Congressional Budget Office (CBO) today scored the GOP "Obamacare repeal" bill aka Ryancare Trumpcare, and finds that the Obamacare revision would reduce insured numbers by 24 million:
House Speaker Paul D. Ryan's proposal to revise the Affordable Care Act would lower the number of Americans with health insurance by 24 million while reducing the federal deficit by $337 billion by 2026*, congressional budget analysts said Monday.
[* This is dynamic scoring required by the Budget and Accounting Transparency Act of 2014 to make long-term budgetary effects appear better. See Paul Krugman on dynamic scoring, Selective Voodoo.]
UPDATE: The way the bill achieves the 10% lower average premiums has little to do with increased choice and competition. It depends on penalizing older patients and rewarding younger ones. According to the CBO report, the bill would make health insurance so unaffordable for many older Americans that they would simply leave the market and join the ranks of the uninsured. No Magic in How G.O.P. Plan Lowers Premiums: It Penalizes Older People.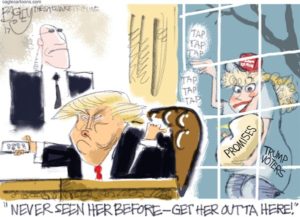 The report from the Congressional Budget Office underscores the dramatic loss in health insurance coverage that would take place if the GOP health-care plan is enacted, potentially contradicting President Trump's vow that the plan would provide "insurance for everybody" and threatening support from moderate Republican lawmakers.
Fourteen million people would lose health coverage next year alone, the report stated. Premiums would be 15 to 20 percent higher in the first year compared to the ACA, and 10 percent lower on average after 2026. By and large, older Americans would pay "substantially" more and younger Americans less, the report states.
No wonder Donald Trump does't want the GOP plan to be called "Trumpcare." White House: Don't call it Trumpcare. This grifter and con man literally brands his name on every product imaginable, so how bad does this GOP bill have to be for him to say "sorry, no"?