The Arizona Restaurant Association (ARA) is the principal chamber of commerce organization that has sought to defeat and to undermine Arizona's Minimum Wage Act first approved by voters in 2006, and reaffirmed by voters in 2016.
The ARA was behind HB 2579, our Tea-Pulican legislature's attempt to gut the 2006 Minimum Wage Act by narrowly redefining "wages." The ARA participated in a failed legal challenge to the sufficiency of the 2016 Minimum Wage Initiative, and after the Minimum Wage Initiative was passed by voters, the ARA participated in the failed legal challenge to overturn the will of the voters.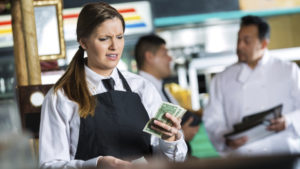 The ARA's position is always that the minimum wage (most restaurant workers are paid a sub-minimum wage and must rely on the kindness of strangers for tips) is devastating to restaurant businesses. The ARA always claims that a higher minimum wage will reduce employment in the restaurant sector.
While some marginal businesses teetering on failure may have closed due to higher wage costs, those businesses have been replaced by others that are competitive at the higher wage costs. And isn't that what "creative destruction" in a free market economy is all about?
Howard Fischer reports today that employment in the restaurant sector has gone up since passage of the increase in the minimum wage. Food sector job growth outpaces state since wage hike on Jan. 1:
Remember those claims during the Proposition 206 debate that increasing the minimum wage would lead to less hiring and people being laid off from low-wage jobs?
The latest unemployment statistics suggest that hasn't happened.
In fact, the data from the state Office of Economic Opportunity shows that the number of people working in bars and restaurants last month not only increased but did so at a rate six times higher than the economy as a whole. Employers who run food service and drinking establishments added 7,800 new workers compared with February, a 3.3 percent boost.