So Conservatives mounted opposition to Trump's deal with Democrats, but failed to stop it in the Senate: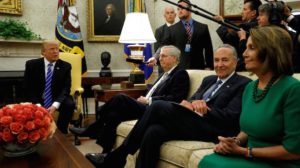 Conservative lawmakers voiced their opposition to President Trump's deal with Democratic congressional leaders, arguing the three-month government spending bill that also raises the debt ceiling should not be passed because it does not include federal spending cuts.
The chairman of the conservative Republican Study Committee objected to the agreement in a letter to House Speaker Paul D. Ryan (R-Wis.), while Sen. Ben Sasse (R-Neb.) proposed an amendment to pass relief for Hurricane Harvey victims as a stand-alone bill in the upper chamber, decoupled from debates over federal spending and the debt ceiling.
The moves came just as news broke that Trump and Senate Minority Leader Charles E. Schumer (D-N.Y.) are working on a separate deal that would repeal the debt ceiling by December — My God, he's giving up our hostage! — another betrayal by the president that would erase one of the few points of leverage conservatives have to extract spending cuts during high-stakes fiscal debates.
Opponents failed to derail the package combining $15.25 billion in Harvey aid with a temporary debt-ceiling hike and funding to keep the government open until Dec. 8. The Senate passed it on Thursday afternoon, sending it back to the House for final approval.
The bill passed the Senate by a vote of 80 to 17. All "no" votes were Republicans. Arizona Sens. Jeff Flake and John McCain both voted "no." (This was a "safety" vote — it was going to pass by a safe margin so they could afford to be dicks about it).