Well, this should be fun. In planned speech, Sen. Jeff Flake compares Trump's media attacks to comments by Stalin: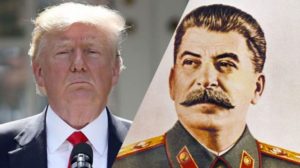 Sen. Jeff Flake (R-Ariz.) plans to give a speech in the coming days that compares President Trump's public criticism of the news media to similar comments once made by Soviet dictator Joseph Stalin.
A spokesman said that Flake, who will retire after this year amid intense political pressure sparked by his criticism of the president, plans to deliver the speech Wednesday before Trump announces the winners of his self-described "fake news" awards.
Trump announced via Twitter that he would be handing out awards Wednesday to news outlets he thought unfairly covered him.
Flake continues to be one of Trump's most frequent critics, often speaking out to warn that the president's words and actions could be detrimental to the future of the Republican Party and the nation's standing worldwide.
In recent days, he was among the lawmakers who denounced Trump for describing certain African nations and Haiti as "shithole countries" during an Oval Office meeting on immigration policy. Flake has been negotiating a bipartisan deal on immigration with Sens. Richard J. Durbin (D-Ill.) and Lindsey O. Graham (R-S.C.). In an interview with The Washington Post on Friday, Flake said that he was not at the meeting, but heard about Trump's comment "before it went public. And what I've heard reported is consistent about what I heard about the meeting."
"I'm not surprised at the sentiment expressed — it's consistent with what he's said — but that he would do that knowing the fury it would cause," Flake added.