Remember when Trump supporters believed that his "America First" rhetoric meant retreating from America's role as the world's policeman engaging in endless wars to a non-interventionist foreign policy and withdrawing behind the walls of a "fortress America"? Suckers, that's not what Trump meant at all. America First Foreign Policy. This is an aggressive "nationalism" policy litte different from the policy Russia ad China pursue.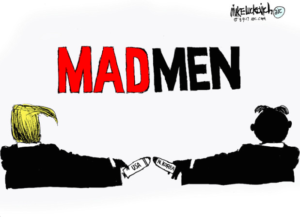 U.S. Ambassador to the United Nations Nikki Haley said on Sunday the U.N. Security Council has run out of options on containing North Korea's nuclear program and the United States may have to turn the matter over to the Pentagon. U.S. Ambassador Haley: U.N. has exhausted options on North Korea:
"We have pretty much exhausted all the things that we can do at the Security Council at this point," Haley told CNN's "State of the Union," adding that she was perfectly happy to hand the North Korea problem over to Defense Secretary James Mattis.
* * *
China has urged the United States to refrain from making threats to North Korea. Asked about President Donald Trump's warning last month that the North Korean threat to the United States will be met with "fire and fury," Haley said, "It was not an empty threat."
"If North Korea keeps on with this reckless behavior, if the United States has to defend itself or defend its allies in any way, North Korea will be destroyed. And we all know that. And none of us want that. None of us want war," she said on CNN.
"We're trying every other possibility that we have, but there's a whole lot of military options on the table," she said.