Arizona's angry old man, Senator John McCain, is not a member of the Senate Intelligence Committee, but he is an "ex officio" of the committee, so he was allowed to participate in today's testimony by former FBI Director James Comey.
The local media tried to build up John McCain as "playing a key role" in the questioning of James Comey, because the local media all kiss his wrinkled old butt. See this ABC 15 report. John McCain to question James Comey at Thursday's congressional hearing.
Sen. McCain went last in questioning today as an "ex officio" of the committee, and hoo-boy! Was that ever a disturbing and deeply embarrassing performance, both for him and for this state.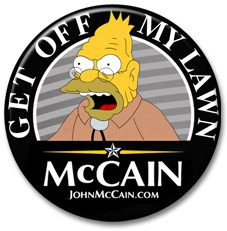 It was as if someone woke up Grandpa Simpson from his nap and he started spouting off on a different topic from what everyone else had been talking about for the past two plus hours.
McCain appeared dazed and confused, frequently confusing "Mr. Comey" for "Mr. Trump," and everyone – including James Comey – was staring at him with pained expressions on their face wondering to themselves "what the hell is he talking about?"
Here is how Foreign Policy describes McCain's bizarre performance. What on Earth Was John McCain Asking James Comey?
During former FBI Director James Comey's highly anticipated testimony Thursday, Sen. John McCain (R-Ariz.) launched into a strange line of inquiry that puzzled Comey and everybody watching the hearing. While questioning Comey, the one-time Republican president candidate seemed to confuse the ongoing investigation into Russian meddling in the campaign with the closed probe into Hillary Clinton's private email server.