In January 2009 on inauguration day for Barack Obama, Republicans conspired to sabotage his presidency and to "make him a one term president," as the "Enemy of The People," Senator Mitch McConnell, vowed at the time. The fact that the country was in the worst economic crisis since the Great Depression and the fate of the world's financial system and the global economy were seriously in doubt was of no consequence to them, any more than the fate of the lives of millions of Americans. The only thing that mattered to these conspirators was the control of political power.
Republicans are not waiting for inauguration day this time, they are already actively sabotaging the American economy ahead of Joe Biden's presidency to udermine his presidency. The fact that the country is in the midst of a deadly coronavirus pandemic and the worst economic crisis since the Great Depression, again, is of no consequence to them, any more than the fate of the lives of millions of Americans. The only thing that matters to these conspirators is the control of political power.
William Rivers Pitt writes, Mitch McConnell Is Sacrificing the Entire Economy to Impede Biden Administration (excerpt):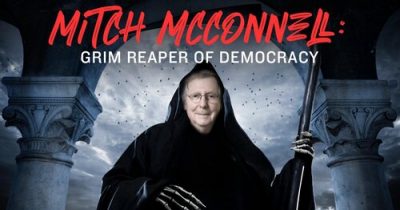 At this juncture, however, the only person perhaps as worthy of purest loathing as Trump is his chief enabler, Senate Majority Leader Mitch McConnell. "If Donald Trump is the Devil waiting at that moonlit crossroads to tune our guitar at the cost of our souls," I wrote almost two years ago, "Mitch McConnell drove him there and paid for the gas."
Millions of people remain out of work today. The effect of the first and only stimulus package McConnell allowed for a vote has all but dissipated. Those unemployed millions face the termination of their unemployment insurance at the end of the year, just when the eviction moratorium is set to expire.
When this COVID spike reaches its apex, the country may well be forced into another full shutdown. If McConnell and the Senate do not pass a robust aid package, the economic cost will be unimaginable. Restaurants currently praying for the snow to hold off so their lifeline of outside seating can continue may well be broomed off the sidewalk when the hammer falls, and thousands of other businesses that cannot operate without customers will disappear.
The answer for this is not to pretend it isn't happening and stack corpses before the altar of can't-stop capitalism. The answer is for McConnell to allow a large stimulus package to the floor for a vote, one that protects essential workers at places like grocery stores who will be risking their lives so Mitch can have strawberries with his breakfast.
The answer is to offer financial protections to the sectors of the populace, including both individuals and businesses, that have been most brutally affected by the pandemic.
McConnell can do this, and he can do it today. The "lame duck" session of Congress has officially begun, and there isn't a blessed thing on Earth keeping Mitch McConnell from helping his country… except Mitch McConnell, who needs to keep the GOP base fired up so the Georgia runoffs break his way, which means coddling the crossfire hurricane in the Oval Office, which means perpetuating all the fictions that sustain this administration, which means no stimulus, because obviously we don't need one, right?
Besides, trashing the economy before January 20 will mean Joe Biden's administration will be buried to the neck before they get through the door, and that's what matters to Mitch. That's all that matters.
This week, Treasury Secretary Mnuchin cuts off several Federal Reserve emergency aid programs, sparking unusual rebuke from Fed:
Bond villain, Treasury Secretary Steven Mnuchin on Thursday said he would not extend most of the emergency lending programs run in tandem with the Federal Reserve, a move the central bank immediately criticized, citing the fragile recovery.
The Fed's exceedingly rare public response reflected a government divided on how to act as the pandemic surges across the nation, threatening a new wave of shutdowns and marking an inflection point of the economic recovery.
In a letter to Fed Chair Jerome H. Powell, Mnuchin not only said that several of the programs would wind down at the end of the year, but he also requested that unspent money allocated to the Fed under the first stimulus effort, the Cares Act, be reallocated by Congress. However, the Treasury Department does not have the sole authority to reallocate the funds and would need to secure Fed agreement.
The letter triggered a rare public statement from the Fed on Thursday evening.
"The Federal Reserve would prefer that the full suite of emergency facilities established during the coronavirus pandemic continue to serve their important role as a backstop for our still-strained and vulnerable economy," the central bank said.
White House Chief of Staff Mark Meadows said Wednesday that he "can't guarantee" lawmakers will be able to reach a deal to avert a mid-December shutdown of the federal government. White House chief of staff 'can't guarantee' U.S. government will avert December shutdown:
Congress and the White House have until Dec. 11 to approve new spending legislation to prevent the federal government from shutting down in the middle of a pandemic and amid a surge in coronavirus cases. Meadows said he was hopeful an agreement would be reached but did not rule out that an impasse. There has already been two government shutdowns during President Trump's four years in office, one lasting more than a month.
If appropriators cannot reach agreement on legislation to fund federal agencies, Congress could approve a "continuing resolution" that would lock in existing spending levels with no change to existing policy. White House officials say they want to fund the government, but Trump's erratic policy demands and negotiating style have for years upended negotiations with Congress, culminating in the longest-ever government shutdown in 2018 over his demands for a wall on the U.S.-Mexico border.
* * *
Economists who have clamored for additional stimulus legislation warn that a federal shutdown could further imperil the national recovery. Congress also faces the looming expiration of numerous economic protections by the end of the year, including benefits for millions of jobless Americans and protections for renters and student borrowers.
Negotiations over a stimulus package have faltered, with no discussions currently occurring between McConnell and House Speaker Nancy Pelosi (D-Calif.), according to congressional aides. Pelosi and Senate Minority Leader Charles E. Schumer (D-N.Y.) sent a letter Tuesday to McConnell asking for the resumption of negotiations. The White House has taken a back seat in discussions over a stimulus package since Trump lost the presidential election.
On Thursday, the Department of Labor reported the number of Americans seeking unemployment aid rose last week to 742,000, the first increase in five weeks and a sign that the resurgent viral outbreak is likely slowing the economy and forcing more companies to cut jobs. US jobless claims rise to 742,000; millions to lose aid: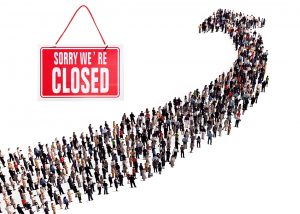 The Labor Department's report Thursday showed that applications for jobless aid rose from 711,000 in the previous week. In March, when the pandemic first intensified, the number had soared to 6.9 million. Before then, applications typically hovered about 225,000 a week.
The worsening pandemic and the arrival of cold weather could accelerate layoffs in the weeks ahead. Of the roughly 20 million Americans now receiving some form of unemployment benefits, about half will lose those benefits when two federal programs expire at the end of the year.
"The risk of further job and income loss is high now from business operations being curtailed," said Rubeela Farooqi, chief U.S. economist at High Frequency Economics, a forecasting firm. "Also, expiration of federal benefits later this year will put renewed strain on household incomes. Overall, the labor market remains under stress."
The economy's modest recovery is increasingly at risk, with newly confirmed daily infections in the United States having exploded 80% over the past two weeks to the highest levels on record. More states and cities are issuing mask mandates, limiting the size of gatherings, restricting restaurant dining, closing gyms or reducing the hours and capacity of bars, stores and other businesses. At least 15 states have tightened curbs on businesses to try to slow infections.
Evidence is emerging that consumers are losing confidence in the economic outlook and pulling back on shopping, eating out and other activities. Spending on 30 million credit and debit cards tracked by JPMorgan Chase fell 7.4% earlier this month compared with a year ago. That marked a sharp drop from two weeks earlier. Consumer sentiment also declined in early November and is down nearly 21% from a year ago, according to a University of Michigan survey.
And retail sales rose just 0.3% in October, the smallest gain since stores reopened in April after a nationwide shutdown in March. The weak gain suggests that consumers began pulling back on spending even before many new restrictions on businesses were imposed.
The number of people who are continuing to receive traditional unemployment benefits fell to 6.4 million, the government said Thursday, from 6.8 million. Some of that decline reflects more hiring. But it also indicates that many jobless people have used up their state unemployment aid — which typically expires after six months — and have transitioned to a federal extended benefits program that lasts 13 more weeks.
Yet that extended benefit program is one of two federal supports that are set to expire at year's end, eliminating benefits for 9.1 million people, according to a report Wednesday from The Century Foundation. Congress has so far failed to agree on any new stimulus package for jobless individuals and struggling businesses. The cutoff of aid will sharply reduce income for the unemployed, force a further reduction in their spending and perhaps weaken the economy.
One of those programs is Pandemic Unemployment Assistance, which made self-employed and contract workers eligible for unemployment aid for the first time. PUA was established by a multi-trillion-dollar aid package that Congress enacted in the spring.
The second measure in the stimulus package provided the additional 13 weeks of benefits for unemployed people who have used up their state benefits.
When those two programs expire on Dec. 26 — Merry Christmas! — the Century Foundation estimates that 12 million people will lose their benefits. About 2.9 million will probably transition to a state extended benefit program that can last from six to 20 weeks, the report said. The rest will lose benefits that average about $320 a week nationally.
The expiration of benefits will make it harder for the unemployed to make rent payments, afford food or keep up with utility bills. Most economists agree that because unemployed people tend to quickly spend their benefits, such aid is effective in boosting the economy.
The CDC eviction moratorium will expire at the end of the year as well. The Aspen Institute calculates an Estimated 30-40 Million People in America Are at Risk of eviction, creating a massive eviction crisis and homeless crisis in the new year.
News outlets including CNN reported Thousands of cars form lines to collect food in Texas:
Thousands of people lined up for groceries at a food bank distribution event in Dallas, Texas, this weekend, with organizers saying the Covid-19 pandemic has increased need in the city.
North Texas Food Bank (NTFB) distributed more than 600,000 pounds of food for about 25,000 people on Saturday, according to spokeswoman Anna Kurian. There were 7,280 turkeys distributed to families, Kurian told CNN.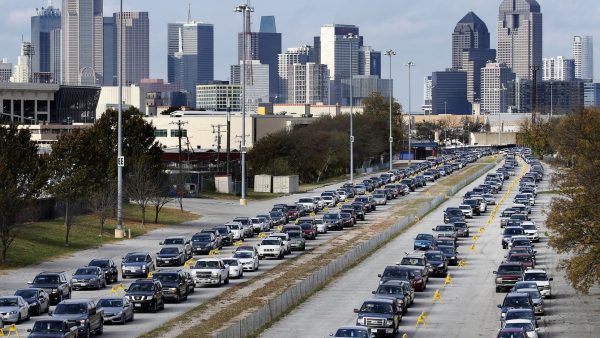 Photos provided by NTFB show thousands of cars lined up for NTFB's Drive-Thru Mobile Pantry at Fair Park. Kurian said the need for food "has certainly increased" with the pandemic, with Texas last week becoming the first US state to report 1 million cases of coronavirus.
"Forty percent of the folks coming through our partners doors are doing so for the first time," she said.
Cutting off benefits with so many people still receiving them would be unusually early compared with previous recessions. In the Great Recession of 2008-2009, the government extended unemployment benefits to 99 weeks, and the additional aid lasted through 2013. When that program ended, about 1.3 million people lost benefits — a fraction of the number who would lose their aid at the end of this year.
"We're still down 10 million jobs since the pandemic began," said Elizabeth Pancotti, co-author of the Century Foundation report and a policy advisor at Employ America, a left-leaning think tank. "We're heading into the winter, we're seeing additional business closures, consumer demand is already falling….Cutting off benefits seems inhumane to me."
Trump and Republicans remain opposed to any aid to state and local governments. Their intransigence will in effect "defund the police" – and every other public service employment. Congress is forcing cities to defund the police, firefighters, and schools:
Unless Congress passes a coronavirus relief package, cities and towns across the country are going to struggle "to keep the lights on" and perform basic services like responding to 911 calls, Joe Buscaino, president of the National League of Cities and president pro tempore of the Los Angeles City Council, told Axios.
In May, the National League of Cities (NLC) found that US cities are facing a $360 billion revenue shortfall over the next three years. And since then, there's been little movement from the federal government to provide the support needed to avoid furloughs and cuts to basic, necessary services to keep cities afloat as they govern through the Covid-19 pandemic.
This all might sound familiar. Following the Great Recession, cities dealt with massive economic shocks by curtailing services … One 2009 report by the Center for Economic and Policy Research found that "more than 110,000 jobs have been shed from state and local governments [between 2008 and 2009]. This number includes over 40,000 teachers as well as nearly 4,000 uniformed police officers and firefighters."
Richard Ravitch explains there are 23 Million Reasons to Not Let States Fail:
Imagine that cities and states were considered an industrial sector, like automobiles or airlines. Collectively, they employ about 23 million essential workers like teachers, police officers and firefighters. They contribute over $3 trillion to the nation's gross domestic product.
Would the federal government allow such an enormous industry to fail?
For Republicans, the answer is "yes." "Let them go bankrupt" Mitch McConnell says.
Ravitch concludes, "There is no alternative other than federal assistance. President-elect Biden must address this crisis now, and act as soon as possible after he's inaugurated."
Democrats would love to address these serious economic problems. But if Republicans retain control of the Senate for the next two years, "The Enemy of The People," Mitch McConnell and his Republican saboteurs will do everything in their power to sabotage the economy and the Biden administration. They do not care how many American lives are harmed in the process, or how many may die. All they care about is the control of political power.