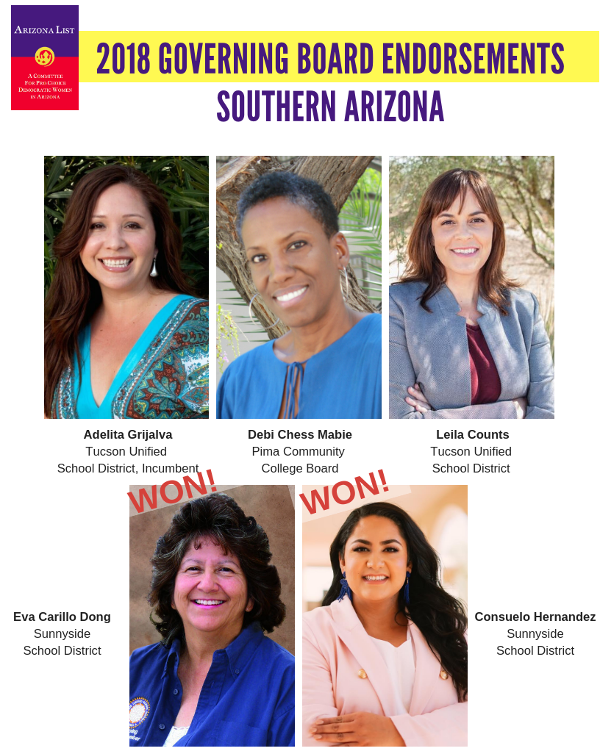 Carolyn's note: Adelita Grijalva is a 4 term incumbent on the TUSD Governing Board, and Leila Counts is a political newcomer/teacher running for a position on the same board. Adelita is one of CD 3 Congressman Raul Grijalva's daughters.
Debi Chess Mabie is seeking her first term on the District 5 Governing Bd. of Pima Community College (open seat as incumbent Luis Gonzales is not running for re-election).
Incumbent Eva Carrillo Dong and political newcomer Consuelo Hernandez have apparently won their seats on the Sunnyside School District Governing Bd. Consuelo is a younger sister of LD 2 Rep. Daniel Hernandez Jr. (up for re-election) and their other sister Alma is  running for LD 2 House. Congratulations to Eva and Consuelo.
Vote wisely on or before Nov. 6, 2018.
Arizona List is a statewide network supporting pro-choice Democratic women running for office in Arizona.
For other Arizona List endorsements (state, city, AZ legislature, county, school boards), go to this link: https://www.arizonalist.org/our-women/our-candidates/
Support volunteer citizen journalism at the Blog for Arizona with a donation today. Your PayPal contribution keeps the Blog online and sustains a free press in Arizona.