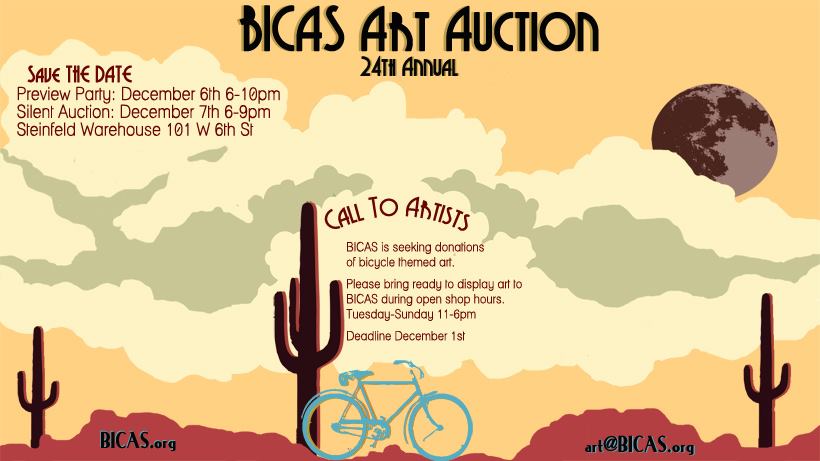 24th annual BICAS ART AUCTION
DECEMBER 6th & 7th, 2019
Steinfeld Warehouse (101 W 6th St.)
CALL TO ARTISTS
BICAS is seeking donations of bicycle themed art. Please bring ready-to-display art to the shop during open hours, Tues-Sun 11-6. All mediums welcome, professional and amateur artists alike! Deadline for submissions is Dec 1st.
EVENT TIMES
Preview Party: Friday Dec 6th, 6-10pm
Auction Night: Saturday Dec 7th, 6-9pm
EVENT DETAILS
"Join BICAS for our biggest fundraiser of the year! See astounding bicycle art, sip refreshing local brews, and enjoy scintillating entertainment at our 24th annual Silent Art Auction!
The auction begins with a preview party on Friday Dec 6th (6-10pm) and ends with our silent auction on Saturday Dec 7th (6-9pm). Bicycle-inspired art and art made from bicycle parts will be on display both nights. As always, there will be a Kid's Crafting Corner, music, and food/beverages and merchandise available for purchase. Free to attend!
Come support Tucson's only nonprofit bicycle education center and party with a bunch of bike and art nerds! What's not to love??"
ENTERTAINMENT
TBA
FOOD & DRINKS
Beer & wine generously provided by:
Dragoon Brewing Co.
Owls Club
Food vendors TBA
SOCIAL MEDIA
Instagram & Twitter: @bicastucson
#bicasartauction
https://www.facebook.com/events/2487199181492207/