Three seats are up for grabs on the nonpartisan, volunteer Tucson Unified School District Governing Board.  2 term board member Kristel Foster is stepping down, as is one term member Rachael Sedgwick-Gordon, and recently appointed member Bruce Burke (filling a vacancy after resignation in October 2019 of long term member Mark Stegeman).  Attorney Burke formerly served on the Board in 2003 to 2010.
The League of Women Voters of Greater Tucson hosted a candidate forum for the 6 candidates running in the Nov. 2020 General Election. Here's the flyer (with bios) from that August 22, 2020 event and a link to the video:
The TUSD Governing Board 2020 Candidate Forum

The TUSD Governing Board 2020 Candidate ForumThe candidates: SADIE SHAW is a parent in TUSD, a community organizer and an artist with a BFA in Art and Visual Culture. Her campaign is centered around promoting values that include inclusivity, diversity, equity, accessibility and transparency. Two of the issues she will focus on are expanding the current ethnic studies program and the Joint Technical Education District (JTED).DR. RAVI GRIVOIS-SHAH is a parent in TUSD. He is a family physician and Associate Professor at the University of Arizona. He will ensure that schools open safely. He will fight for healthy building infrastructure, healthy food in the schools, and improved teacher working conditions.NICK PIERSON was born in Nogales. In addition to his professional career in finance, Nick dedicates time to helping build youth art programs in the community. His Board goals include creating a healthy environment where students can thrive. CINDY WINSTON has been a teacher for 30 years. If elected, she will focus on financial accountability, funding for capital improvements, creating community partnerships and teacher recruitment and retention. ADAM RAGAN is a classroom teacher in Tucson. He understands what board decisions mean in the classroom, how they affect students and how they could build up the community that makes a school. He will work to increase district enrollment, review the strategic plan, advocate for school building renovations and student and faculty safety in the age of COVID.NATALIE LUNA ROSE is the Communication and Outreach Manager at Arizona Center for Disability Law. As an independent consultant, she has developed communication strategies for local nonprofits and government organizations. She has been a member of the TUSD Parent Advisory Council. She is a former board member of Planned Parenthood. The League of Women Voters is a nonpartisan political organization that neither supports or opposes any political party or candidate. We encourage informed and active participation in government, work to increase understanding of major policy issues, and influence public policy through education and advocacy.

Posted by League of Women Voters of Greater Tucson on Tuesday, August 25, 2020
Of the six candidates, four are political newcomers: Dr. Ravi Grivois-Shah, Natalie Luna Rose, Sadie Shaw, Cindy Winston. Nick Pierson ran before as a Republican against CD 3 Congressman Raul Grijalva in Nov. 2018.  Adam Ragan ran for a TUSD Governing Bd. seat in November 2018 and came in 3rd in a 5 way race for 2 seats.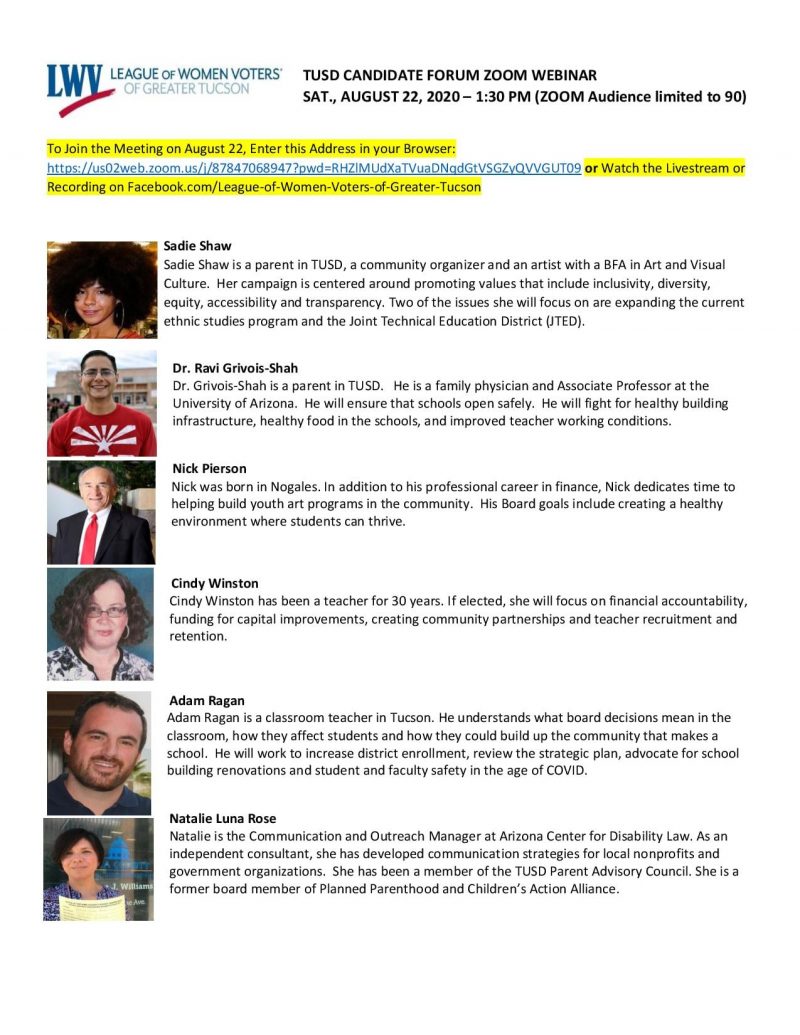 Two other TUSD Board members not up for re-election are Adelita Grijalva (also running for District 5 Pima County Board of Supervisors in Nov. 2020) and Leila Counts.  Democrat Grijalva said that she would not resign from the TUSD Governing Board should she be elected to the Board of Supervisors.
Early ballots go out on October 7, so vote wisely on or before the General Election of Nov. 3, 2020.