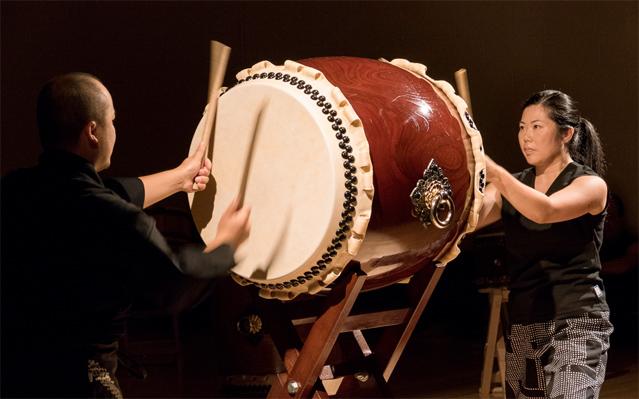 ODAIKO SONORA AND THE ROGUE THEATRE PRESENT
88: Hachi Hachi with UNIT SOUZOU
Saturday January 30, 2016
Two performances 2:30 P.M. and 7:30 P.M.
Tickets $18 in advance, $20 at the door
Call The Rogue Theatre box office at 520-551-2053 or order from our Web store. The Rogue Theatre is located at 300 E. University Blvd. (between 4th and 5th Avenues).
"Tucsonans have the rare opportunity to see two of North America's leading taiko (Japanese ensemble drumming) performers in the intimate space of The Rogue Theatre. 88: Hachi Hachi is an intricate weaving of taiko, dance and theatre by Portland's UNIT SOUZOU. Internationally recognized taiko performers Michelle Fujii and Toru Watanabe create a rhythmic journey investigating lineage, personal story and the space that exists between two people.
Odaiko Sonora is proud to once again partner with The Rogue Theatre to present taiko in a theatrical setting. Odaiko Sonora's partnership with The Rogue Theatre began when Musical Director Paul Amiel borrowed a taiko in 2012 for The Rogue's Journey to the West. The Rogue later commissioned Odaiko Sonora to score their 2013 production of Shakespeare's Richard III, and Odaiko Sonora then presented a concert at the theatre in October, 2013."
Carolyn's note: The number 8 is "hachi" in Japanese, thus the name of this taiko troupe. More info about Odaiko Sonora at www.tucsontaiko.org.
Get tickets online at: http://www.theroguetheatre.org/store_tickets.htm