It is very important for the people of this country (especially in Michigan, Pennsylvania, and Wisconsin) to turn out and vote the 2016 Popular Vote Loser out of office through the Electoral College.
It is equally vital that the citizens of Kentucky oust the current Senate Majority Leader Mitch McConnell.
This writer and others have called Mr. McConnell:
The Obstructionist in Chief and Grim Reaper for holding up legislative measures that would move the county forward and judicial nominations, especially the nomination of Merrick Garland to the Supreme Court.
Moscow Mitch for both objecting to the Obama Administrations desire to publicly reveal the Russian interference in the 2016 elections and his reluctance to bring up the Secure Elections bills passed earlier this year by the House of Representatives. The term has taken on new meaning with the surfacing of recent reports that sanctioned Russian business individuals may have met with McConnell Kentucky business allies and arranged a deal to lift sanctions in exchange for investing in a new aluminum plant in Eastern Kentucky.
The Enemy of the People for not advancing the people's agenda while maintaining the status of the plutocratic interests with his prioritization of conservative judicial nominations.
The Political Prince of Darkness because of his Machiavellian machinations as both the Senate Minority and Majority Leader.
His defeat in 2020 and the shift of power in the Senate to the Democrats is just as essential in defeating the KKK Endorsed Candidate in the White House and keeping (and increasing) power in the House of Representatives.
Fortunately, Democrats in Kentucky are very animated about dispatching McConnell into retirement. According to Ballotpedia, there are five declared Democratic candidates looking for the opportunity to best the Political Grim Reaper in November 2020. While Colonel Amy McGrath is presently the most well known nationwide, the others should be considered as well.
One of these candidates has the background of a Renaissance Man. He has been a warrior, a farmer, a journalist, and an educator.
His name is Colonel Michael Broihier and he was gracious to answer questions about his:
Background and qualifications for the Senate
Positions on some of the important issues facing this country.
The questions and his responses are below.
Please explain the reason you have chosen to run for the United States Senate.
"I'm running for the United States Senate because, Kentucky, as well as our nation, deserve better than Mitch McConnell. For 35 years, McConnell has used his political office to accumulate political power and personal wealth while Kentucky has languished. And, as Mitch McConnell has gotten richer and become more powerful, we have become more divided and more polarized."
   "There was a time not long ago when the United States Senate was respected as the 'world's most deliberative body.' But after 35 years of Mitch McConnell, it has become paralyzed by dysfunction. It has become the place where ideas and solutions to solve the most pressing problems of our time are sacrificed for the sake of partisan, political advantage. "
Please explain what are at least two qualifications for the Senate that makes you the better candidate.
"My wife and I came to Kentucky 15-years ago to farm, to lay down roots and make a home. I didn't come here to run for office. Setting aside the fact that my primary opponent and I are both retired Marine Lieutenant Colonels, my experience as a farmer and a reporter and editor for Kentucky's third oldest newspaper really separates me from other candidates in the primary and general elections."
"As a farmer, I understand the challenges of rural Kentuckians, exacerbated now by the inexplicable trade wars being waged by the current administration. Last week, China announced there would be ZERO US agricultural imports from the US. Our grain and soy farmers and pork and bourbon producers are stuck with a bill they can ill-afford."
"Being the editor of a rural weekly is an incredible first-hand experience. You attend every school board, fiscal court, Planning and Zoning board, city council, fireboard, ambulance board…the list goes on and on…meeting in your area. You are there for every parent and taxpayer who is too busy to go, and you learn exactly how decisions that affect every resident are made. You also cover everything from elementary school award ceremonies to tragic housefires. You experience, firsthand, the challenges and triumphs of average people in a way that none of the candidates in the race have."
"I know you asked for two, I'll add a third, addressed specifically at Mitch McConnell."
 "I served for over two decades as a Marine. My wife is a retired Marine. She served in Afghanistan as an active duty Marine and our son and I served in Afghanistan as DoD contractors. We are 100%, as a family, on serving in the forever war."
 "We've lived the challenges of every military family for our entire adult lives while Mitch McConnell has sat in Washington, growing richer and more powerful. One of us is a multi-multi-millionaire and one of us isn't."
In your opinion, please explain at least two reasons Mitch McConnell does not deserve reelection to the Senate.
 "First, Mitch McConnell has fundamentally failed the nation as Majority Leader. Through his intransigence he has left critical legislation, passed by the House, ranging from gun reform to equal pay for women, to die on his desk. When Barrack Obama was president, you could attribute it to nasty political partisanship, but two and a half years into the Trump administration his inaction is indefensible."
"Secondly, Mitch McConnell has left Kentucky to languish while he has consolidated his political power and personal wealth. He entered the Senate 35-years ago as one of the poorest senators and now he is one of the richest. While he can parachute in some pork in an election year, he's done nothing to uplift the people of Kentucky. For six terms he has grown richer while Kentuckian's income has stagnated. Kentucky's health, economy, ecology, education system, opportunities for social and economic growth, almost any metric of advancement, have not improved. He doesn't care about Kentucky or Kentuckians except when they are in the voting booth." 
What are the three domestic issues you will center your campaign on?
"I will talk about the ACA and gun reform below so three additional domestic issues are:"
"Repealing McConnell's 2017 tax cuts for corporations and the super-rich and increasing the top marginal tax rate for the wealthiest earners while cutting taxes for the middle class and working poor."
"Authorizing HHS to directly negotiate prescription rates with pharmaceutical companies. There is no reason for US citizens to pay three times as much as other First World nations for prescription drugs."
"Provide immediate medical and mental healthcare options for honorably discharged veterans awaiting VA treatment. No veteran should be denied care while awaiting induction to the VA and subsequent treatment."
What are at least two international issues you will center your campaign on?
"First, rebuilding and empowering our diminished State Department. Our immigration challenges do not start in the US, the start abroad where the US State Department and its subordinate agencies are well suited for influencing events and conditions. The state has been degraded and defunded and the morale of its professional staff is in the gutter. I spoke with two recently retired State employees last week and they said that everyone who can leave, most accomplished, mid-level professionals, are leaving. The remainder is riding out their time for retirement."
"Secondly, re-engagement with our traditional allies on a broad range of topics from defense, to trade to the environmental crisis. Our staunchest and most generous allies have been repeatedly insulted and denigrated over the past few years and I will do everything I can to repair and reinforce relationships that will ensure peace and protect the planet."
With regards to health care, do you believe in Medicare for All or expanding the Affordable Care Act or another alternative? 
"I am firmly for improving the ACA and adding a public option."
In your opinion, should the federal minimum wage go up to $15.00 an hour or be adjusted depending on the region of the country you live in?
"I think that it should vary by region. Frankly, Kentucky's small businesses could not handle $15 an hour, but I do think they could handle $10."
Do you support the Green New Deal or another proposal (like those from Governor Inslee, Beto O'Rourke, or the advocates behind the Green Real Deal)? 
"I endorse many of the proposals in the Green New Deal and other plans that show that at least some politicians are thinking beyond the next election and looking out for the long term health and welfare of our country and planet."
 "Looking toward Kentucky, I would work with Representatives and Senators of both parties who represent Appalachian regions to fund an enduring trust to rebuild and uplift Appalachia and our western coalfields where the coal industry has stripped the natural resources, polluted the land and left the residents holding the bag. I'd propose a small, fixed fee on all types of commercial energy production, including renewables, to fund the reconstruction of the infrastructure, schools, hospitals and community colleges to provide a pathway to move beyond an economy based solely on coal extraction. "
What is your view on the moves towards clean elections and election security reform contained in HR 1?
"I fully support HR1. Mitch McConnell will do everything in his power to block cleaning up the election system if it means he can no longer enjoy gerrymandering, unaccounted for money in our election process and voter suppression. "
In the aftermath of the tragic mass shootings, what are at least two gun control solutions that you support?
"Universal background checks for the sale of any gun. Banning of any device, procedure or modification that enables a semi-automatic weapon to fire like an automatic weapon. A ban on extended capacity magazines."
 "I do support red flag laws. Further, I support strengthening all emergency protective orders. One of the things that surprised me when I started my journalism career was how toothless, at least in Kentucky, EPOs are."
"I am friends with our sheriff and when I wanted to learn more about EPOs both he and a judge I spoke to shook their heads and basically said, "not worth the paper they're written on."
"I read a story yesterday criticizing red flag laws and the fundamental argument was that it denied due process to the subject. I think that the facts that the action is, by definition, an emergency, and that it is done by a judge, puts the lie to that."
Please explain how you would try and strike consensus with the more liberal wing of the Democratic Party?
"Due to Mitch McConnell's refusal to allow any progressive legislation to a vote, there is an abundance of low hanging fruit; I can't foresee having to argue with more liberal House and Senate members on passing some fundamental legislation that helps all Americans."
Do you think President Trump should be impeached and please give two reasons for your response? 
 "This will be decided before or by the 2020 election. Either the house will impeach the president, or they won't. He'll be re-elected or he won't. Whatever is going to happen will happen before I take office and I don't want to comment without seeing all of the documentation, a lot of it classified and redacted, available to members charged with making that decision."
Is there anything you would like the readers to know about you or your candidacy that the above questions did not fully convey?
"I am the best candidate to retire Mitch McConnell. Kentucky has run Republican-lites against McConnell for 35 and it hasn't worked. He has never faced anyone like me: a farmer, an educator, small-town newsman, and a retired Marine Corps officer."
 Kentucky needs a new voice in the Senate that will advocate for both the people of Kentucky and citizens of this nation.
It needs a champion that will fight for them and not the reactionary plutocrats.
Colonel Michael Broihier is a person that people should consider to provide that new voice and champion their causes.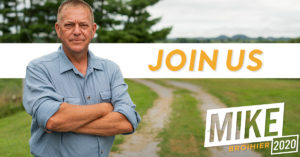 For more information on Colonel Broihier, please visit (by clicking on the words in blue) his website, Twitter and Facebook Page.
You can also view videos highlighting Colonel Broihiers speeches and candidacy by clicking on these below links that are in blue.
Mike Broihier for Senate Labels:
March for Lives Vigil Address:
If you want to support Colonel Broihier's candidacy, please donate at https://secure.actblue.com/donate/mike-broihier-for-senate-1