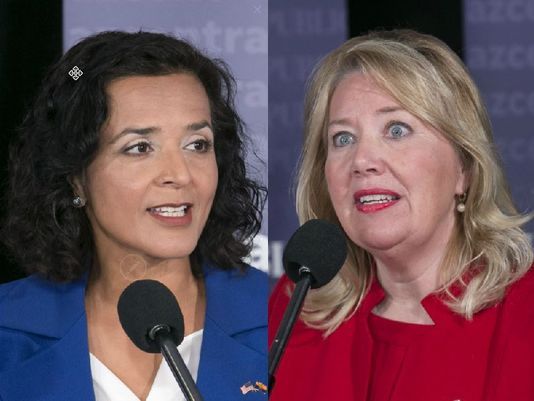 There was only one bit of good news for Republicans in the Arizona Congressional District Eight Election yesterday evening. Their candidate, soon to be Freedom Caucus Member Debbie Lesko, did win. Everything else was bad news for them. The reasons are as follows:
President Trump won this district by 21 points. Lesko won by only a little over five. The Democrat, Dr. Hiral Tipirneni, and her team ran an excellent race, campaigning on health care, retirement security, and funding public education. She made inroads among Republicans and Independents outperforming how Secretary Clinton did in virtually every precinct.
The Democrats put up a fight. Dr. Tipirneni was the first Democrat to fight for this seat in six years. She and her people are smart and should learn how to build on their performance last night just in time for the electoral rematch this  November.
Enthusiasm is with the Democrats and Progressives for a variety of reasons ranging from an awakening for progressive solutions and disenchantment/disgust with what the President and his allies on the national and state stage offer.
The Republicans spent over a $1,000,000 in a "safe" district. The Democrats are probably hoping they drain their bank accounts on more of these "safe" districts. With her performance, Dr. Tipireni will probably get more attention from the National Party and small donors who see a very "gettable" seat in November.
This was the most conservative district in the State. Imagine what other strong Democrats can do, if recruited, in the other Congressional Districts in Arizona.

Since President Trump became President, Democrats have outperformed in all but one of the elections that have been held. Historically, this is not just a phenomenon that started with the Trump Administration. Just ask Bill Clinton before the 1994 elections. With the rash of retirements and Democratic and Progressive enthusiasm reaching zeniths not seen in years, districts won by Trump by 12 or fewer points should be considered. There is even fear that the Senate with strong Democratic challengers in Arizona, Nevada, Tennesse, and Texas, can put that chamber in play.
It is going to be interesting for the next seven months. Get out the popcorn.
https://www.azcentral.com/story/news/politics/elections/2018/04/24/5-takeaways-arizona-special-election-congressional-seat-debbie-lesko/542869002/
https://www.azcentral.com/story/news/politics/elections/2018/04/24/5-takeaways-arizona-special-election-congressional-seat-debbie-lesko/542869002/
https://www.nytimes.com/interactive/2018/04/25/us/politics/special-election-results-shift-democratic.html?link_id=7&can_id=943e7bf6e02432b4ecf6adf414ea51c6&source=email-progressive-breakfast-how-to-build-a-progressive-populist-movement-from-the-ground-up&email_referrer=email_342386&email_subject=progressive-breakfast-how-to-build-a-progressive-populist-movement-from-the-ground-up
https://www.washingtonpost.com/special-election-results/arizona/?utm_term=.e83ccd6da0a5
https://www.washingtonpost.com/news/the-fix/wp/2018/04/25/democrats-didnt-win-in-arizona-but-heres-why-theyre-celebrating-anyway/?utm_term=.4d24e0a396ec
https://www.washingtonpost.com/powerpost/arizona-voters-to-pick-new-member-of-congress-to-replace-trent-franks/2018/04/24/08fd2e84-4734-11e8-827e-190efaf1f1ee_story.html?utm_term=.b6fd4c162522
https://www.vox.com/2018/4/25/17279324/arizona-special-election-result-2018-midterms-republicans
https://www.vox.com/policy-and-politics/2018/4/25/17279368/marsha-blackburn-phil-bredesen-2018-tennessee-senate-race-polls
https://www.vox.com/policy-and-politics/2018/4/25/17279656/poll-nevada-republican-dean-heller-trump