A Quiet Passion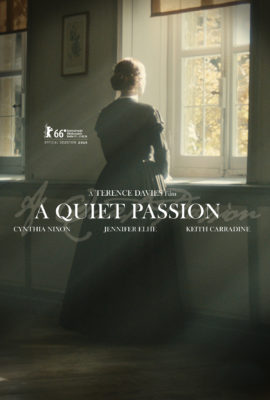 Starts Friday, May 12 at the Loft Cinema, 3233 E. Speedway Blvd. Tucson
---
"Acclaimed actress Cynthia Nixon (Sex and the City) delivers a triumphant performance as Emily Dickinson as she personifies the wit, intellectual independence and pathos of the poet whose genius only came to be recognized after her death.
Celebrated British director Terence Davies (House of Mirth, The Deep Blue Sea) exquisitely evokes Dickinson's deep attachment to her close knit family along with the manners, mores and spiritual convictions of her time that she struggled with and transcended in her poetry. (Dir. by Terence Davies, 2016, UK, 125 mins., Rated PG-13)"
For showtimes: https://loftcinema.org/film/a-quiet-passion/
Carolyn's note:  The large Theater 1 at the Loft is undergoing renovation till mid-July, but smaller theater 2 (upstairs) and theater 3 (stadium seating outside) are still running.  Instead of theater 1, the Tucson Jewish Community Center large room at 3800 E. River Rd. is being utilized.  Also note that some showings this summer will be at the Global Justice Center (225 E. 26th St.) in South Tucson.
"I'm nobody! Who are you? Are you nobody too? Then there's a pair of us– don't tell! They'd banish us, you know." (page 9-10,  Selected Poems)