The last two elected heads of the Maricopa County Assessor's Office treated the position as a part-time job.
Paul Petersen thought more money could be made in an adoption scam ring and is currently waiting to spend some learning time in prison.
Eddie Cook, the current appointed Assessor and Republican nominee, apparently likes to work from home during the pandemic even when several of his staff had to work in the office and expose themselves to potential infection during the early stages of COVID 19.
These two individuals also have no background in real estate which is ironic given the position deals with (wait for it) real estate.
The Democratic nominee for County Assessor, Aaron Connor, has over 25 years in real estate and technology experience.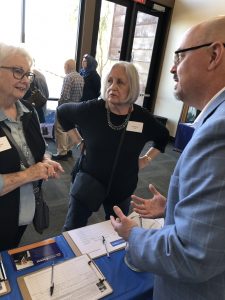 If he wins this November, he also wants to work full time in the Assessors office.
He also wants to work with all the people in the office when safety and health conditions permit.
Mr. Connor graciously took the time to discuss his candidacy and what he would do if elected to the Assessors office.
The questions and his responses are below.
Please tell the voters two reasons they should pick you over your opponent
"I actually have real estate experience and I care deeply for the county"
"One of Cooks first appointments was for a Deputy Assessor that has no real estate experience. It shows poor judgment because that person does not have the experience needed. Taxpayers should expect that the Assessor and their deputy who makes 155,000 a year to have real estate experience."
 It is vital that the assessor and the deputy have real estate experience.
"My combined 26 years in IT and mortgage makes me the man of the moment for the Assessor's Office. They are trying to cancel a five-year, $11 million debacle called the Mars Project. The incumbent, said in a recent interview, that he might drop the whole project altogether. This was news to his staff working on the project. With my experience in managing many software releases and with so much taxpayer money on the line, I believe we should try to save the project and save the taxpayers dollars."
"I will actually hire qualified people and not rely on my friend's list."
Please tell the voters at least two ways your opponent does not reflect the vision or direction of the Assessor's office.
"The incumbent lacks a fundamental understanding of the position. In a recent interview, he said that he is accountable only to the Board of Supervisors and not the taxpayer. The assessor is only accountable to the taxpayer."
"He put $145,000 of his own money in the primary for a $76,000 position. Why? He is also taking PAC money and only has ten small-dollar donors. I am proud to say that I have 500 individual donors that are fueling this people-powered movement."
"I passionately believe that government is where we all come together and leave no one behind. During this global pandemic, Eddie Cook left us all behind. After I repeatedly asked Eddie to extend the valuation appeals deadline, his response to me was to block me on Twitter. He denied the ability of front line and health care workers to appeal their inaccurate assessments."
"His only action was to give real estate investors a $10.00 registration fee waiver and he believed that would help efficiency in the office."
"I think the Assessor needs to be there for all taxpayers and not just investors."
Please tell the voters at least two public policy issues you will advance if you are elected to the Maricopa County Assessor's office.
"I want to work with the Board of Supervisors to expand more opportunities in the widow/widower and senior citizen valuation freeze programs."
"Since this is the Valley of the Sun, I want Maricopa County to lead the way in Solar Energy. I want to propose a two-year valuation freeze (tax holiday) program to anyone that installs solar panels on their primary residence and rental properties. I want investors to take part in this as well."
"I also want to use my public voice to highlight the lack of Black and Latino homeownership in Maricopa County."
"I want to work closely with the Arizona Legislature and Board of Supervisors to find innovative ways to address the homeownership gap among underserved communities."
Is there anything you would like the voter to know about you or your candidacy that has not been asked in the first three questions.
"One of the reasons Eddie Cook failed us during the COVID 19 crisis, like Paul Petersen, is he will only work for the taxpayer's part-time."
"His inaction to create a remote work environment for the 200 to 250 hard-working employees of the Maricopa County Assessor's office resulted in one confirmed COVID 19 infection while he allowed himself and the other members of the leadership team to work from home.  His employees had to use their own paid sick time to keep themselves from harm."
"I believe in a service leadership style of management. I would never ask a staff member to do something I would not do myself.  Eddie Cook recently took credit for winning the NACo 2020 Achievement Award for a business efficiency improvement using "Lean Six Sigma" private sector practices in Government.  By all accounts, this a win by his staff as much of the work was done prior to his appointment."
"He also sent an email out to his supporters to ask them to go door to door during the Pandemic to get signatures to go on the ballot."
 "I would not ask that of my supporters to do that."
"Lack of empathy, reckless decisions that endanger his staff, cronyism, and not being up to the job disqualifies him from a full term."
"If elected, I will work full time for all Maricopa County Taxpayers and protect the staff from harm."
 "If you want an Assessor that not only values property but the people who live in them, join our grassroots family at connor2020.com and my twitter handle is @aaronassessor."
For more information on Aaron Connor and his candidacy for the Maricopa County Assessor's office, please click on his interview with Maricopa County Superintendent of Schools Candidate Jeanne Casteen here, his campaign website here and Facebook page here.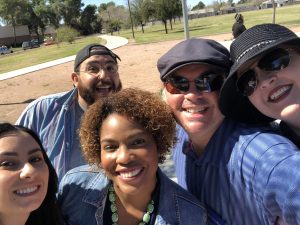 Please remember:
The General Election Day is on November 3. 2020. Please see the below graphic for all-important voting dates. 
Please check your voter registration at vote.
Register/sign up for the Permanent Early Voting List (PEVL) in Arizona or any state that allows early or absentee balloting and mail. Arizona residents can sign up at vote. 
Arizona residents, mail your General Election ballot by October 27, 2020, for the November 3, 2020 election. With recent issues with the Post Office, you should consider mailing them out by October 23, 2020, if not earlier. 
Check-in with the Secretary of State's office where you live to verify your mail-in ballot was received, processed, verified, and counted.
Know the voter ID requirements in your state.
If you can, support Clean Election Candidates with a small contribution.
Also, please remember to stay informed on all the candidates and vote for all the offices on the ballot.
Also, remember to research all the ballot initiatives, sign to get them on the ballot if you support the measure, and vote on them as well.