Tucson and Pima County Residents were saddened to learn that Pima County Supervisor Chairperson Richard Eliás passed away on Saturday, March 28, 2020.
A beloved progressive activist in the community, Supervisor Eliás leaves large shoes for one of his five potential successors to fulfill.
One person looking to succeed Supervisor Eliás and continue and build on his legacy, and that of her father is Adelita Grijalva.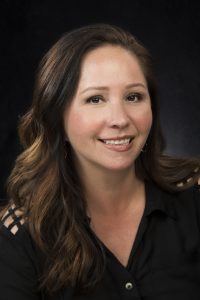 The daughter of House Representative Congressman Raúl Grijalva, Ms. Grijalva has considerable experience in public service working with disadvantaged youth and serving on the Governing Board of the Tucson Unified School District.
If elected to succeed Eliás, she would bring a pragmatic progressive approach to governing focused on collaboration, community outreach, and the environment.
She is a proud wife and mother of three children.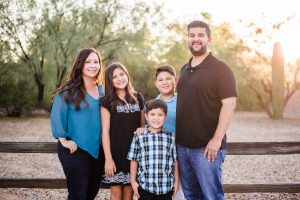 Ms. Grijalva took time from her schedule to respond to questions regarding her candidacy.
The questions and her responses are below.
1)  Please tell the readers three ways the Pima County of Supervisors affects their lives?
a) "All of us in Pima County are experiencing a very real and urgent effect in the response to the coronavirus pandemic. We are seeing the impact globally and nationally and are looking to our local government for assurance and direction. "
– Pima County Health Department- "The function of the Pima County Health Department is, and will continue to be, the primary mitigation and capacity builder for the containment, protection, prevention, and treatment for the public."
– Kino Medical Complex- "Kino Medical Complex has a vital role to play in the testing and treatment of Pima County residents, with particular focus on our most vulnerable communities. If anything, this coronavirus experience should demand a more robust public health function and presence going forward."
– "The role that Pima County will play in the economic stabilization and recovery for workers and businesses is very important."
b)" Climate change and a sustainable environment, which requires an ethic of environmental conservation and protection. This is an immediate need."
c) "Partnerships with the City of Tucson and other municipalities and educational institutions to promote and contribute to healthy kids, families and education, i.e. parks and recreation/libraries/ etc."
2) Please tell the readers how your education and experience have prepared you to serve on the board.
"As a native Tucsonan and life-long resident of the district I seek to represent, I have dealt with issues as a TUSD school board member for the last 18 years that have required risk, hard work and communicating honestly with the public. From budget to social justice issues, I have worked hard to put the public interest first."
"I matriculated throughout Tucson schools, am a proud graduate of Pueblo High School and the University of Arizona. I received my BA in Political Science and want to continue to serve this community that has afforded me so much."
"I have served on the TUSD school board and worked with the juvenile diversion program Teen Court for almost 25 years, since January of 1996."
3) Please tell the reader at least two reasons you would like to run for the Pima County Board of Supervisors.
"I am qualified and prepared. As a Supervisor in District Five, I will be able to get right to work. I am familiar with the issues that Pima County faces and quite frankly, we need someone in the position that has the experience of representing a richly diverse community. District Five encompasses Saguaro National Park, both Pascua Yaqui and Tohono O'odham Nations and the University of Arizona just to name a few landmarks. I seek to honor Richard Eliás' legacy and continue to expand conservation efforts. I will never be able to replace my dear friend Richard, but I will work diligently to earn the right to represent District 5. I seek the position to protect the progressive values that he advocated for and worked hard to implement. I believe in what Richard stood for and all I can do is work to not let his ideals be forgotten or sold out. I am also familiar with the position from when my father held it. I have paid attention because the decisions made by the Board of Supervisors affect our community."
4)  Please describe how you would support:
a) Animal wellness, adoption, and protection.
"I would strengthen wildlife function for rescue and disease abatement (rabies, etc.) I would also increase Education outreach in helping how to take care of the animals. We should do that at the county level as well as individual schools. It would be wonderful to work with schools and teach kids about animal wellness. I would promote no-cost spay and neuter clinics because the costs of doing so can be prohibitive."
b) Public safety from disease.
"I would call for additional resource support for no-cost/low-cost immunizations. We need to make it easier for people to find clinics that provide them for free. There must be more than one way to get the information out. We should provide free confidential testing on any disease like the Coronavirus. We need greater education/outreach and increased resources for food/ sanitary inspections/ enforcement. Collaboration with the University of Arizona public health school/health providers/ schools and organizations to inform and provide prevention services is an option that should be improved on at the county level as opposed to individual schools."
c) Ensuring immunizations are given to low income and homeless citizens
"No cost immunizations for children and vulnerable communities (homeless, poor, regardless of status) should be given at the free clinics or Pima County Mobile Units. We need to improve getting the information out especially to those who do not have access to the Internet, especially with the libraries closed because of the current public health emergency."
d) County Libraries
"I support additional support for digital advancements and improvements at the 23 libraries. We need to address the availability of technology to address the digital divide in Pima County including rural broadband and connectivity within Tucson and the other parts of the county."
e) Veterans Services
"I support fully staffing a centralized Veteran's services effort involving outreach for homeless/info on benefits. Veterans need support to assist re-entry efforts through job training and employment. These veterans risked all to protect our freedoms and we must honor that sacrifice. We should enhance partnerships with the VA, Veteran's organizations and the federal governments and streamline whenever possible so there is no duplication of effort."
f) Safeguarding waste, recycling, and sanitation.
"I would advocate for expanding recycling/use of effluent water in non-potable use such as Parks and Recreation groundwater/ recharge golf courses. We need greater oversight on private waste companies regarding sanitation and contractors. We need to work on combating air pollution at the local level, especially with the state not acting as they should. We also need to ensure greater groundwater preservation/protection and control of waste disposal sites. Protecting the environment should be a major priority."
g) Infrastructure
"There should be increased joint planning and projects in urbanized, incorporated areas of Pima County. Examples: Neighborhood reinvestment, public transit, electric car parking stations, alternative transportation (bicycles, etc.)." Increasing partnerships with city municipalities will help both Pima County and city residents and stretch our precious resources."
5) Please address other priorities, not covered in question four, as a member of the board you would like to pursue if elected.
"Metropolitan consensus, information outreach, bureaucratic streamlining, and partnerships are needed, involving all county jurisdictions to address:
*Focus on vulnerable and marginalized communities and individuals
*Economic development
*Clean energy
*Outreach and more partnerships with educational institutions including Pima Community Colleges, JTED, University of Arizona and our K-12 schools and districts.
*Managed development in growth
*Increased social service resources"
6) Please tell the reader anything you would like them to know not covered in the previous questions.
"Our community lost an incredible advocate and champion and many of us lost a brother, friend, and ally. There is no way to replace Richard Eliás… period. He was a constant voice for our shared progressive values. Richard was someone you could count on to stand up for our most vulnerable and our environment. He is greatly missed and left a community heartbroken."
"I have dedicated my life to improving the quality of life in Pima County. I am a parent, a public education advocate and a native Tucsonan. For the last nearly 25 years, I have had the privilege of working at a non-profit organization as the Director of Teen Court. I have worked with thousands of families as they try to ensure that their child receives the support they need. Ensuring that support is available for our most vulnerable is one of the reasons I first ran for elected office and continues to be a driving force. I am humbled by the support from Emily and Luz Eliás and our community and will dedicate myself to earning the privilege to represent Pima County District Five."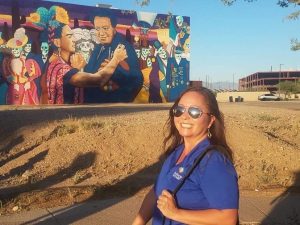 Tucson Mayor Regina Romero has endorsed Adelita Grijalva to succeed Richard Eliás.
For more information on Ms. Grijalva and her campaign, please visit www.AdelitaforSupervisor.com or the Facebook page Adelita Grijalva for Supervisor.