Yesterday at the Cesar E. Chavez building at University of Arizona 100 students, faculty, administrators, and community leaders sat down together for the first Asian Pacific American Studies Conference, sponsored by UA Asian Pacific American Studies Affairs  (APASA).  The theme of the conference was "Advancing the Movement" and the primary question raised was "Why don't we have an Asian Pacific American Studies program at the UA"? According to the keynote speaker Professor Allyson Tintiangco-Cubales, there are 64 universities in the U.S. with such a program, but none at the University of Arizona (only at ASU in Arizona). Several of the speakers mentioned that Asian Americans are the fastest growing ethnic immigrant population group in the U.S. (more than Hispanics).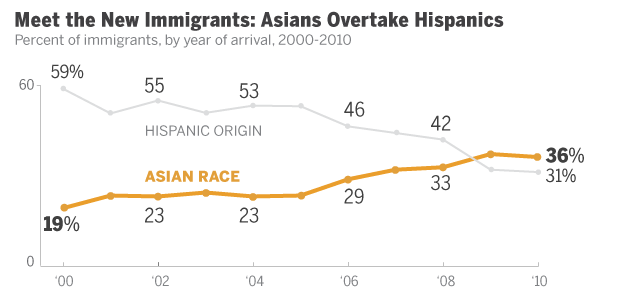 weblink source: Pew Research Center:  http://www.pewsocialtrends.org/asianamericans-graphics/ 
"Dr. Allyson" as she is called is a California born & educated Filipina American who got her Ph.D. from UCLA in Ethnic Studies. She is now a Professor in the College of Ethnic Studies & Education Leadership at San Francisco State U. She spoke enthusiastically about the past of their struggle to establish an APA studies program at SFS. She then outlined their clear purpose of ARC: access, relevance and community, in order to reach their power and core values. There are 17 current faculty members, 6-8 lecturers, 2500 students, 50 courses, 60-80 Majors/minors and 70 Masters' degrees granted in their program, which had its start in 1969 with a 5 month student strike. She encouraged the student audience to be "agents of social change", especially after seeing her students graduate and become teachers and professors.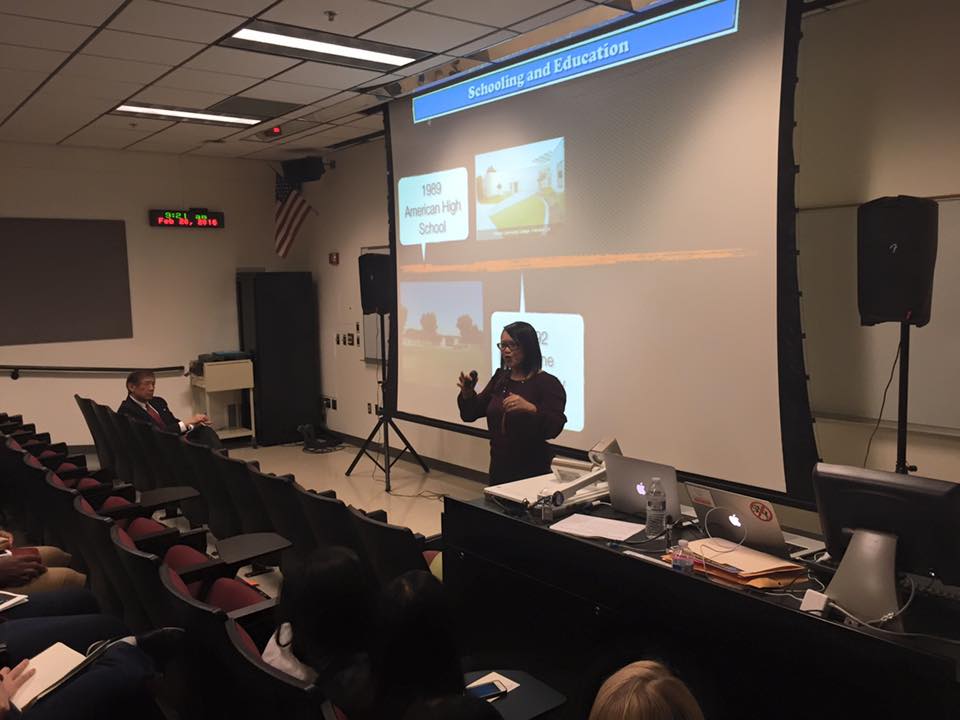 Following the keynote speaker, the conference attendees could choose between 2 workshops at 10 a.m:
Session 1A: Asian Pacific Americans and the Media (Dr. Celeste Gonzales de Bustamante, UA College of Journalism
Session 1B: APA Studies Place in Ethnic Studies (Dan Xayaphanh, UA Director of APASA as moderator –with panelists Dr. Ted Tong, UA College of Pharmacy, Dr. Anna O'Leary, UA Mexican American Studies, Dr. Keith James, UA American Indian Studies)
At 11 a.m. the workshop choices were:
Session 2A: The Value of Ethnic Studies: A Student Perspective (Dr. Daisy Rodriguez-Pitel, PCC adminstrator)
Session 2B: APA Studies in AZ (an ASU Perspective) – Dr. Kathryn Nakagawa and Dr. Karen Leong, associate professors from ASU School of Social Transformation
As Editor of the Southern AZ Japanese Cultural Coalition and blogger online here at Blog for Arizona, I chose the media workshop naturally. Dr. Bustamante, a Filipina American Associate Professor, showed slides of the mis (representation) of Asians in the media including a video clip of Presidential candidate Donald Trump asking an Asian American student "where are you from?". The Korean American student replied that he was from Texas and Colorado, but the point was that we Asians are always seen as the "perpetual foreigner".Actor Mickey Rooney (in yellow face) in the 1961 movie "Breakfast at Tiffany's" reminded the audience of how Asians were negatively depicted in the movies, with only a few Asian characters in movies today. Then Dr. Butamante asked the attendees to look up Asian terms on their iphones or ipods to see what negative (or positive) stereotypes came up for words: Japanese, Vietnamese, Korean, Asian women, Asian men, Asian Americans, Asians. She closed with the statement that we all need to be critical of the movies and news, and should check out alternative media such as traktivist.com (Asian American Music & Radio) and manaa.org (Media Action Network for Asian Americans).
Asian Americans in the media in Tucson (my list): Dr. Bustamante above mentioned who used to be a reporter at AZPM (KUAT channel 6);  Stephen Gin, Chinese Am. Editor of Bear Essential News; Teresa Jun, Korean Am. news anchor at KOLD TV; and myself.  Also John de Dios, Chinese/Filipino Am. freelance video producer.
Then I attended the workshop about ASU's interdisciplinary Asian Pacific American Studies Program with Dr. Nakagawa (Japanese Am.) and Dr. Leong (Chinese Am.) who spoke about their dynamic, engaging classes across several disciplines, with 7 full time faculty. They showed a 6.5 minute video about their B.A. program, established in 1998 with community and other ethnic studies programs support, and a large donor grant of $250,000 from a Mr. Wu. Dr. Leong showed statistics that did not show Asian Americans as a model minority, but facing problems with immigration, youth suicide highest among Asian women (ages 18 to 25), that 70% of Asians in America are foreign born, with low high school completion and health issues. Asians are also not seen as leaders due to the "bamboo ceiling".  See website below for more info about this program:
https://sst.asu.edu/content/asian-pacific-american-studies-ba
After lunch, the closing  speaker was PCC Chancellor (and attorney) Lee Lambert, half Korean Am. born in Seoul and educated in Korea, Europe, and the U.S. The Chancellor spoke of the past treatment of Asian Pacific Americans in the U.S. including the Chinese Exclusion Act of 1882 and thereafter, and that Asian Americans are not really a model minority with many having no health insurance, limited English proficiency, low college degrees in some Asian immigrant communities. Then he closed his talk about the rise of Asia in the global economy as in South Korea, China, and India. He asked the students to reflect on "their responsibility to their ancestors' sacrifice, to make sure that their legacy is continued." And he also reminded us that that we need to know our key connection to Asia as a key bridge to the future.  Also in attendance at his speech was PCC Governing Board member Dr. Sylvia Lee.
The afternoon workshops centered on the next steps to create an APA Studies program/department/courses at the UA, so stay tuned in advancing the movement. Other attendees were asked to write down what should be taught in this program. My input would be of course for a topic be the Japanese American internment during WWII , being as there were two large relocation centers in Arizona at Gila River and Poston.
Gold level sponsors were Pima Community College and OCA – Tucson Chapter; silver sponsor: AAFSAA (Asian American Faculty Staff and Alumni Association). Bronze sponsors of their conference: College of Humanities East Asian Studies Dept., Africana Studies, and Adalberto & Ana Guerrreo Student Center.
Kudos to Matt Matera, Conference Coordinator,  mtmatera@email.arizona.edu for a well organized, student run conference.